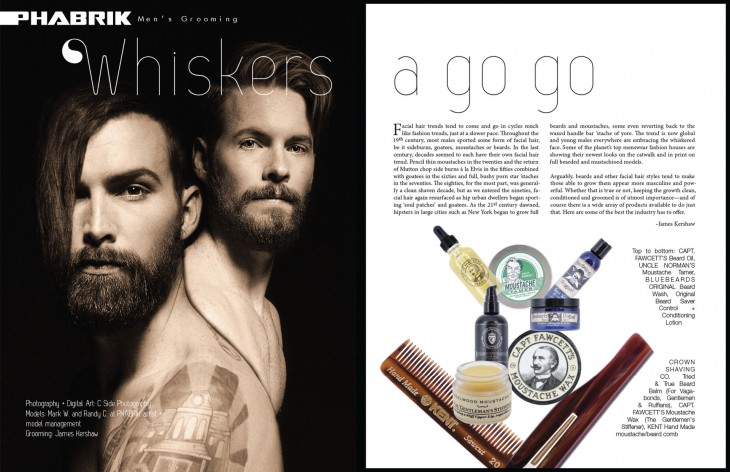 – Photographs + Digital Art by C Side Photography
– Article + Grooming by James Kershaw
– Models Mark W. and Randy C. at PHABRIK artist + model management
Facial hair trends tend to come and go in cycles much like fashion trends, just at a slower pace. Throughout the 19th century, most males sported some form of facial hair, be it sideburns, goatees, moustaches or beards. In the last century, decades seemed to each have their own facial hair trend. Pencil thin moustaches in the twenties and the return of Mutton chop side burns à la Elvis in the fifties combined with goatees in the sixties and full, bushy porn star 'staches in the seventies. The eighties, for the most part, was generally a clean shaven decade, but as we entered the nineties, facial hair again resurfaced as hip urban dwellers began sporting 'soul patches' and goatees. As the 21st century dawned, hipsters in large cities such as New York began to grow full beards and moustaches, some even reverting back to the waxed handle bar 'stache of yore. The trend is now global and young males everywhere are embracing the whiskered face. Some of the planet's top menswear fashion houses are showing their newest looks on the catwalk and in print on full bearded and mustachioed models.
Arguably, beards and other facial hair styles tend to make those able to grow them appear more masculine and powerful. Whether that is true or not, keeping the growth clean, conditioned and groomed is of utmost importance—and of course there is a wide array of products available to do just that. Here are some of the best the industry has to offer.
---
---