- Stylist: Vincent Moutault - Hair Assistants: ​Chantal Girard, Sara Murphy, Jami Cuglietta, Julian Scott, Ray Nann​inga​ and Emma Spense - Photography: Ernest of Studio E Photography - Clothing provided by: LUXX ready to wear - Makeup: James Kershaw - Models: Brittany W., Lauren B., Amanda, Grace, PHABRIK artist + model management Finding the courage to follow a passion can be difficult when you lack the support of the people around you, but Vincent Moutault is an incredible example of the magic that can happen when everything falls into place. Growing up, he was drawn to the artistry of hair and knew that he wanted to pursue a career in hair styling. His family, however, wanted him to be an engineer and he struggled with not being able to tell his father that he wanted to do hair, a career that his family didn't consider acceptable. Knowing that he would eventually have to make a decision about what he wanted to do about his future, he began competing in triathlons, focusing on building his mind, body, and spirit. Sadly, it wasn't as simple as that—a sudden accident left him in a coma for an extended period of time. Thankfully, he made a full recovery. After waking up from the coma, he knew he had to pursue his passion for hair. Moutault fell in love with the beauty and expressiveness of hair, its ability to speak about people, as well as the way the right cut could change someone's life. Reflecting on this, he built his salon in Dijon, France, named La Loge 220. The salon has a unique feature: the absence of mirrors. Rather than relying on feedback during the cutting process, he spends time building a relationship with each client, earning their trust and cutting their hair freely, showing them only the finished look. This unconventional approach was very successful, and the number of confident and empowered clients grew, to a point where people began to travel to see him. In 2007, he was introduced to Davines, a company that reflected his values: a love of artistry and creativity, an emphasis on constant learning and growth, and a passion for natural beauty. A constant learner, Moutault became an educator for Davines, first in France and then internationally. His genuine enthusiasm for sharing knowledge shines through as he is fun, outgoing, caring, and truly approachable. Moutault is constantly working on his English in order to better communicate his ideas with non-francophone students, and his eagerness to share and learn in a fun environment makes him an unforgettable teacher. His artistry is evident as he moves freely and organically to create beautiful hairstyles, something the fashion industry has recognized this as well. His work has been featured internationally in fashion and hair editorials, including Doleres Magazine, Art Actuel, Estetica, and most recently, Bambi Magazine. With an incredible curriculum vitae, Moutault has combined his incredible talent with a passion for constant growth. He likens this to running a marathon, focusing on the journey and process instead of the end goal. Moutault's attitude of constantly working hard and pushing further to reach his goals, one mountain at a time, has brought him to where he is today. By Danielle Fuechtmann
---
By Mark St. James - Marquis of Fashion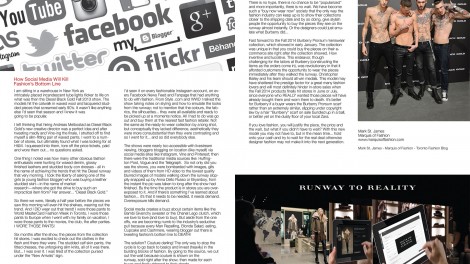 I am sitting in a warehouse in New York as intricately placed incandescent tube lights flicker to life on what was then the Diesel Black Gold Fall 2013 show. The models hit the catwalk in waxed wool and lacquered studded pieces that screamed early 90's. It wasn't like anything else I'd seen that season and I knew it was going to be popular. I left thinking that hiring Andreas Melbostad as Diesel Black Gold's new creative director was a perfect idea and after tweeting madly and Vine-ing the finale, I strutted off to find myself a slim-fitting pair of waxed pants. I went to a number of stores, but ultimately found what I was looking for at H&M. I squeezed into them, tore off the price tickets, paid and wore them out... no questions asked. One thing I noted was how many other obvious fashion enthusiasts were hunting for waxed denim, glossy finished leathers and studded body-con dresses - all in the name of achieving the trends that hit the Diesel runway that very morning. I took the liberty of asking one of the girls (a young fashion blogger) who was buying a leather studded skirt—in the name of market research—where she got the drive to buy such an impractical item from? Her answer... "Diesel Black Gold." So there we were, literally a half year before the pieces we saw this morning will even hit the shelves, wearing out the trend. And I DID wear out that trend! I wore those pants to World MasterCard Fashion Week in Toronto, I wore those pants to Europe when I went with my family on vacation, I wore those pants to the movies, the club, the after parties. I WORE THOSE PANTS! Six months after the show, the pieces from the collection hit stores. I was excited to check out the clothes in the flesh and there they were. The studded calf skin pants, the fitted dresses, the unforgiving slim knits, all of it was there. But... I was over it. I was tired of the collection pursed under the "New Arrivals" sign. I'd seen it on every fashionable Instagram account, on every Facebook News Feed and Fanpage that had anything to do with fashion. From Style .com and WWD I relived the show taking notes on styling and how to emulate the looks from the runway; not to mention that the colours, the fabrics, the silhouettes... they were all available and ready to be picked up at a moments notice. All I had to do was go out and buy them at the nearest fast fashion retailer. Not the same as the ready-to-wear collection by a long shot, but conceptually they lacked difference, aesthetically they were more consubstantial than they were contrasting and so I went for it... and so did everybody else. The shows were nearly too accessible with livestream viewing, bloggers blogging on location (like myself) via social media sites like Instagram, Vine and Pinterest; then there were the traditional media sources like: Huffington Post, Vogue and the Telegraph. So not only did you see the shows, you were bombarded with images, gifs and videos of them from HD video to the lowest quality blurred images of models walking down the runway sloppily snapped up by Anna Dello Russo or Bryanboy, from the instant the pic was taken to long after the show had finished. By the time the product is in stores you are overexposed to it. And if there's something I've learned about fashion... it's that it needs to be needed, it needs demand. Overexposure kills demand. Social media creates a buzz about certain items like the Bambi Givenchy sweater or the Chanel Lego clutch, which we love to love (and love to buy). But aside from the one offs, we are becoming numb to the industry's seductive pull because every Man Repelling, Blonde Salad, eating, Cupcake and Cashmere, wearing blogger out there is tweeting fashion's bottom line to DEATH! The solution? Couture darling! The only way to stop the cycle is to go back to basics and invest (heavily) in the building blocks of fashion. By going to the source, we cut out the wait because couture is shown on the runway, sold right after the show, then made for each buyer and finally shipped to their abode. There is no hype, there is no chance to be "popularized" and more importantly, there is no wait. We have become such a "buy now wear now" society that the only way the fashion industry can keep up is to show their collections closer to the shipping date and by so doing, give stylish people the opportunity to buy the pieces they see on the runway almost instantly. Or the designers could just emulate what Burberry did... Fast forward to the Fall 2014 Burberry Prorsum menswear collection, which showed in early January. The collection was unique in that you could buy the pieces on their e-commerce site right after the collection showed. How inventive and lucrative. This endeavor, though challenging for the tailors at Burberry (constructing the items as the orders come in), was revolutionary in that it afforded customers the opportunity to wear the pieces immediately after they walked the runway. Christopher Bailey and his team should all win medals. This model may have shattered the prestige factor for a great many fashion lovers and will most definitely hinder in-store sales when the Fall 2014 products finally hit stores in June or July, since everyone who REALLY wanted those pieces will have already bought them and worn them to death. It's better for Burberry if a buyer wears the Burberry Prorsum scarf rather than an extremely similar, slipping under copyright law by a hair "Burrberry" scarf on sale bundled up in a ball, or better yet on the dusty floor of your local Zara. If you love fashion, you will justify the piece, the price and the wait, but what if you didn't have to wait? With this new model you may not have to, but in the mean time... hold onto your cash and try to wait for the real deal otherwise designer fashion may not make it into the next generation.
---
By João Paulo Nunes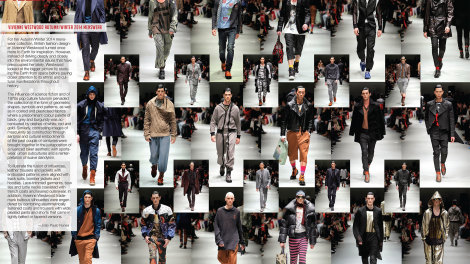 For her Autumn/Winter 2014 menswear collection, British fashion designer Vivienne Westwood turned once more to Earth for inspiration. However, instead of delving deeply and closely into the environmental issues that have preoccupied her lately, Westwood looked at the bigger picture by studying the Earth from space before paying closer attention to its ethnic and cultural manifestations throughout history. The influence of science fiction and of 1970s pop culture futurism pervaded the collection in the form of geometric shapes, symbols and patterns, as well as in coated and plasticised fabrics where a predominant colour palette of black, grey and burgundy was accentuated by dashes of white, red and gold. Similarly, contrasting images of masculinity as constructed through sartorial and cultural embodiments of the past couple of centuries were brought together in the juxtaposition of a nuanced biker aesthetic with sportswear, urban subcultures and a reinterpretation of suave dandyism. To illustrate the fusion of influences, leather trousers and jackets with embossed patterns were aligned with track suits, bomber jackets and hoodies. Lace-trimmed garments, bow ties and turtle necks coexisted with trench coats and layered outerwear. In addition, Vivienne Westwood trademark bulbous silhouettes were engendered by combining asymmetrically fastened coats and trousers with wide pleated pants and shorts that came in tightly belted or tapered versions.
---
By Pamela Di Pinto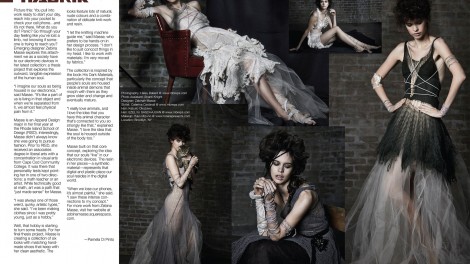 Picture this: You pull into work ready to start your day, reach into your pocket to check your cell phone…and it's not there. What do you do? Panic? Go through your day feeling like you've lost a limb, not knowing if someone is trying to reach you? Emerging designer Zebina Masse explores this attachment we as a society have to our electronic devices in her latest collection: a thesis project that explores the outward, tangible expression of the human soul. "I imagine our souls as being housed in our electronics," said Masse. "It's like a part of us is living in that object and when we're separated from it, we almost feel physical pain from it." Masse is an Apparel Design major in her final year at the Rhode Island School of Design (RISD). Interestingly, Masse didn't always know she was going to pursue fashion. Prior to RISD, she received an associates degree in liberal arts with a concentration in visual arts from Cape Cod Community College. It was there that personality tests kept pointing her in one of two directions: a math teacher or an artist. While technically good at math, art was a path that "just made sense" for Masse. "I was always one of those weird, quirky, artistic types," she said. "I've been making clothes since I was pretty young, just as a hobby." Well, that hobby is starting to turn some heads. For her final thesis project, Masse is creating a collection of six looks with matching handmade shoes that keep with her clean aesthetic. The looks feature lots of natural, nude colours and a combination of delicate knit-work and resin. "I let the knitting machine guide me," said Masse, who prefers to be hands-on in her design process. "I don't like to just concoct things in my head. I like to work with materials; I'm very moved by fabrics." The collection is inspired by the book His Dark Materials, particularly the concept that people's souls are housed inside animal demons that morph with them as they grow older and change and eventually mature. "I really love animals, and I love the idea that you have this animal character that's connected to you so strongly like that," explained Masse. "I love the idea that the soul is housed outside of the body too." Masse built on that core concept, exploring the idea that our souls "live" in our electronic devices. The resin in her pieces—a synthetic material—represents that digital and plastic place our soul resides in the digital world. "When we lose our phones, it's almost painful," she said. "I saw these intense connections to my concept." For more work from Zebina Masse, visit her website at zebinamasse.squarespace.com.
---
By Mark St. James - Marquis of Fashion
Have you ever inspected, fondled or wore a garment that was priced at over $25,000.00? If I narrow the parameters and eliminate fur pieces from your options, you may find it difficult to think of the last time (if ever) that you've come across something with such a considerable price tag. Recently, I had the privilege of getting a very close look at a Fall 2013 Balmain Ready-to-wear jacket that was by all accounts...divine. The craftsmanship that goes into a piece like this is overwhelming and all too obvious within the first glance. That every inch is encrusted in jewels and glass beads raises the jacket from common to Fabergé in about 5000 hours. And even though its mass resembles a bag of stones you'd never complain while wearing it? Not when you put it on and every eye is affixed to you like a blogger to a front row seat at fashion week. The thrill of wearing a piece like this is incomprehensible until you've worn something quite like it which... as I've mentioned above, is quite rare. Taking into account all the intricate handwork and dumbfounding exquisiteness that makes up a piece like this, is it worth it? When you consider a Kazimir Malevich painting such as the Suprematist Composition (blue rectangle over the red beam) which sold for just over 65 million or Mark Rothko's No 1 (Royal Red and Blue) painting that recently sold for a staggering 75 million; dishing out $25,000 on a jacket seems like pocket change. Especially since the item you're owning is a sanctioned piece of art and a piece of history created by Head Designer Olivier Rousteing of Balmain. You might even call it an investment seeing how resale on premium designer clothing is becoming more and more profitable. The mention of Malevich and Rothko is not to, in any way demean their works but rather draw a parallel between the art that these great artists produce and their relative prices. Haute Couture has always had its hands wrapped around the leash of the fashion world and dominating the runways, and rightfully so. With every centimeter designed by hand, each piece measured and cut precisely, each bead sewn on one-by-one not to mention the personalized fittings that go along with the sale of each look on the runway - shouldn't the couturiers get to turn the head of the fashion industry in whichever direction they please? I used to think so. But since Haute Couture has decreased measurably as a subsidiary industry within fashion, Ready-to-wear brands have stepped up there game and are filling in the gap. So... who has the power now? Thankfully the "power" still resides with the buyer. They get to choose how fashion creates, what pieces are magnificent and if fashion truly is an art form. The Balmain piece I was lucky enough to try on is owned by a good friend of mine who, when asked whether they would rather spend the money on a similar piece from a Ready-to-wear brand or start shopping Couture, said "Isn't this Couture?" And aside from countless fittings, isn't it?
---
By Mark St. James - Marquis of Fashion
The world of street style has been growing at an exponential rate ever since Fashion Photographer Bill Cunningham published his candid shots of Greta Garbo in the New York Times back in 1978. What made those images different from a million other paparazzi shots, was that Bill had no idea it was Greta Garbo; he took the photo because of his appreciation of her style and was genuinely interested in the way her coat draped handsomely on her body. Bill Cunningham is not only a very successful columnist at the New York Times but his career was also made into a film in 2010. Richard Press decided to produce "Bill Cunningham New York" to showcase Bill as the founding father of the "street style" genre. Now, a photo of a woman in Mexico with a multi coloured poncho can go viral in hours and drive millions of hits a day across the internet. The smallest detail can be seen as beautiful or bizarre but the choice is in the eye of the photographer whether a look is interpreted as fashion or faux pas. Everyone is a graduate of the police academy of fashion when it comes to street style because, it's encouraged. The only difference between watching people on the street and scrolling through piles of jpegs is that screaming out "That's Nasty!" is really only acceptable in the comments of a blog. It is through street style that people can enhance their style diction and increase their appetite for new inventive ways to tie a turban or wrap a sarong. But aside from expressing your inner voyeuristic tendencies why are people so obsessed with street style? When a photo is taken of a model on the runway, you get to see a slice of what the designer feels is stylish for a particular season. From the hair, make-up, clothes, accessories, nail polish, runway, backdrop, and model, the image that is finally taken of the collection is so contrived that nothing is outside of what the designer had in mind when electing what you should see. Street style is a culmination of everything that is happening in the world at that moment (because the backdrop is the street in all its spontaneity) and the model is 100% untouched by another stylist or fashion enthusiast. This means that every person on the street is dressed the way they are because they chose to dress that way. And when a look really comes together and shines, the credit can go to that individual because they artfully crafted their look and knowingly or unknowingly inducted themselves into a world where the flick of a scarf in the wind or the properly placed glossy neon belt inspires someone thousands of kilometres away. Of course street style wouldn't be what it is today without some of the front-liners who championed their DSLR's and took advantage of the www. platform. Scott Schuman from The Sartorialist and Tommy Ton from Jak and Jill hit the scene with an eye for style and a passion for exposure. Not through traditional means but by means of their blogs which reach thousands of people a day and do their part to enhance the mainframe of personal style. When a street style photographer asks to take a quick shot of you, it's flattering and exciting. You may be a little self conscious due to your lack of modelling experience or ever-so-slightly dusty patent leather wingtips; but at the end of the day the photog (Photography Blogger) chose you to be a page in their book titled people watching. Once upon a time people would sit on a patio and soak in the tragic and tremendous looks that happened across their paths, at times, the pickings would be slim while others there'd be more eye candy than a machine twirling glistening pulled taffy. Why take the gamble of waiting for gold to walk by when you can see the best of the best from Paris, New York, and London at the click of a button? This is what street style is, a compendium of where fashion has come from, where it's going, and who's wearing what.
---
By João Paulo Nunes
For his Autumn/Winter 2013 menswear collection, French fashion designer Jean Paul Gaultier decided to reinterpret traditional menswear by deconstructing conventional sartorial tropes through an amalgamation process. The end result was an extremely accomplished collection of original designs that still allowed for very flattering masculine silhouettes. Using fabrics such as luxurious wools and leather in a palette of black, grey, white, camel, red and emerald, Gaultier created a range of successful garments that included oversized raincoats with dropped shoulders, suits that juxtaposed paneled fabrics, thick knitwear, long leather gloves and high-waisted pleated pants. However, it was the witty deconstruction of menswear that fused tradition with experimentation that caught our attention at Phabrik. This was particularly effective in suit blazers that came cropped or reinvented in shapes that conjured bomber jackets, pinstripe trousers with pleated skirt applications, jumpsuit suits, cropped shirts, and stunning belted overcoats with leather applications that blended traditional overcoat shapes with those of biker jackets.
---
By João Paulo Nunes
Brazilian beachwear label Blue Man unveiled its Spring/Summer 2014 collection in the lush and luxurious surroundings of Palácio São Clemente in the Botafogo neighbourhood of Rio de Janeiro during Fashion Rio on 16 April 2013. The venue for the runway show, a palace that was built in the eighteenth century as the residency of a Portuguese aristocratic family and now houses the Portuguese consulate, is a veritable majestic example of the Tropical Baroque aesthetic and a most adroit setting for Blue Man's seductive collection. Under the creative direction of Thomaz and Sharon Azulay (whose father David Azulay founded the label in the early 1970s by selling the original – and now iconic – side-tied bikini), the collection explored the combination of typically Brazilian fauna and flora with Baroque ornaments found in Portuguese tiles and palace architecture as a reflection of the historical period when the Portuguese court settled in Brazil to escape the Napoleonic invasions and made Rio de Janeiro the capital of the empire. The result achieved by Blue Man was an exciting range of swimwear, beachwear, footwear and accessories in bright colours and detailed patterns that, while combining Rio urban beach culture and historical references, will undoubtedly prove to become popular when they hit the stores later in the year. For Spring/Summer 2014, Blue Man promises fluid pieces in transparent silk for lounging on the beach or by the pool that contrast with structured shoulder and waist lines in bathing suits, shirts and dresses. The influence of Hawaiian surf prints and the brand's seminal relaxed approach to swimwear can be noticed in frayed denim bikinis and in bodysuits with vivid colours and patterns. And to anchor the lighter fabrics and cheerful designs, Lycra, denim and neoprene provide a successful balance to a collection that had the audience delirious and looking forward to another hot Rio Summer.
---
By Anita Foxx
Fur: A vintage feel—but with a modern edge Coats are a winter mainstay, this season many of them are oversized with full voluminous cuffs. It's all part of a trend toward architectural cuts in clothing. Fur coats and jackets made the biggest comeback this year. Many of the silhouettes featured flared skirts and wide belts reminiscent of couture favorites from bygone eras. Paring down the silhouette using coarse furs for elegant wear was often associated with Fendi in the past. Fendi is to fur as Ferrari is to cars. Yet given current concerns about animal rights, the brand has moved from the lavish fur coats that were all the rage in the 1980s to a more discreet way of interpreting fur. Fur appeared as inserts in skirts or dresses, or sheared and fashioned into cozy, understated jackets. Long haired furs, such as goat, also appeared on other runways during Milan's preview showings. DSquared2 Both the masculine and feminine sides of the DSquared2 label were shouting other for attention. Pencil skirts paired with belted jackets, one with layered, architectural lapels. But for evening, the mood was more speak-easy slinky with silky dresses with an asymmetrical, trailing feather boa hemline or a fur stole. Many designers featured fur at this season of preview shows, including Roberto Cavalli who used it mainly to trim the hoods of his winter parkas. That was enough to draw the wrath of a small group of animal rights activists who disrupted the show holding up signs in Italian saying, "Your fashion is our death," until they were forcibly removed. Prada Long luxurious mink coats had ample collars and cuffs like the ones Hollywood royalty wore during the 1950s. Coats have extra wide cuffs and are often belted at the waist and flared toward the bottom.
---
By Colleen Nuc
Designer Profile - Photographs by Bokehccino Project at Western Canada Fashion Week
---