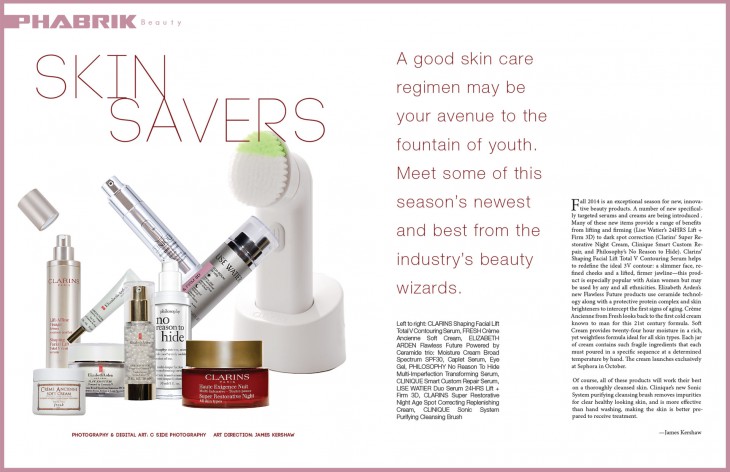 – Photography + Digital Art by C Side Photography
– Article + Art Direction by James Kershaw
A good skin care regimen may be your avenue to the fountain of youth. Meet some of this season's newest and best from the industry's beauty wizards.
Fall 2014 is an exceptional season for new, innovative beauty products. A number of new specifically targeted serums and creams are being introduced . Many of these new items provide a range of benefits from lifting and firming (Lise Watier's 24HRS Lift + Firm 3D) to dark spot correction (Clarins' Super Restorative Night Cream, Clinique Smart Custom Repair, and Philosophy's No Reason to Hide). Clarins' Shaping Facial Lift Total V Contouring Serum helps to redefine the ideal 3V contour: a slimmer face, refined cheeks and a lifted, firmer jawline—this product is especially popular with Asian women but may be used by any and all ethnicities. Elizabeth Arden's new Flawless Future products use ceramide technology along with a protective protein complex and skin brighteners to intercept the first signs of aging. Crème Ancienne from Fresh looks back to the first cold cream known to man for this 21st century formula. Soft Cream provides twenty-four hour moisture in a rich, yet weightless formula ideal for all skin types. Each jar of cream contains such fragile ingredients that each must poured in a specific sequence at a determined temperature by hand. The cream launches exclusively at Sephora in October.
Of course, all of these products will work their best on a thoroughly cleansed skin. Clinique's new Sonic System purifying cleansing brush removes impurities for clear healthy looking skin, and is more effective than hand washing, making the skin is better prepared to receive treatment.
---
---