Reflections: Design That Expands and Renews
By Danielle S. Fuechtman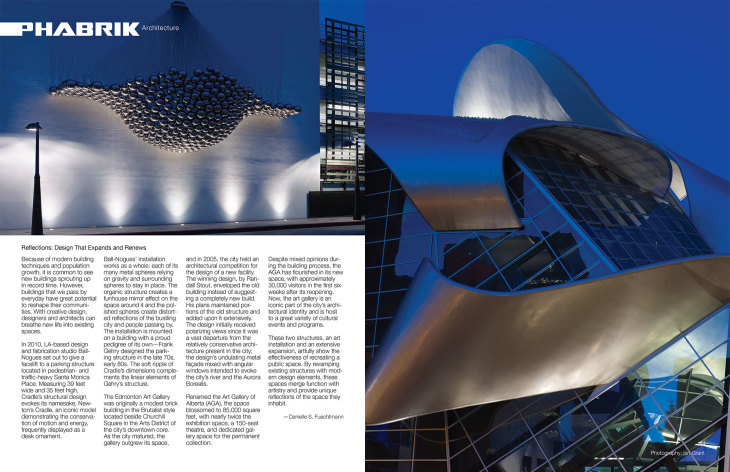 – Photography by Ian Grant
Because of modern building techniques and population growth, it is common to see new buildings sprouting up in record time. However, buildings that we pass by everyday have great potential to reshape their communities. With creative design, designers and architects can breathe new life into existing spaces.
In 2010, LA-based design and fabrication studio Ball-Nogues set out to give a facelift to a parking structure located in pedestrian- and traffic-heavy Santa Monica Place. Measuring 39 feet wide and 35 feet high, Cradle's structural design evokes its namesake, Newton's Cradle, an iconic model demonstrating the conservation of motion and energy, frequently displayed as a desk ornament.
Ball-Nogues' installation works as a whole: each of its many metal spheres relying on gravity and surrounding spheres to stay in place. The organic structure creates a funhouse mirror effect on the space around it and the polished spheres create distorted reflections of the bustling city and people passing by. The installation is mounted on a building with a proud pedigree of its own—Frank Gehry designed the parking structure in the late 70s, early 80s. The soft ripple of Cradle's dimensions complements the linear elements of Gehry's structure.
The Edmonton Art Gallery was originally a modest brick building in the Brutalist style located beside Churchill Square in the Arts District of the city's downtown core.
As the city matured, the gallery outgrew its space, and in 2005, the city held an architectural competition for the design of a new facility. The winning design, by Randall Stout, enveloped the old building instead of suggesting a completely new build. His plans maintained portions of the old structure and added upon it extensively. The design initially received polarizing views since it was a vast departure from the relatively conservative architecture present in the city; the design's undulating metal façade mixed with angular windows intended to evoke the city's river and the Aurora Borealis.
Renamed the Art Gallery of Alberta (AGA), the space blossomed to 85,000 square feet, with nearly twice the exhibition space, a 150-seat theatre, and dedicated gallery space for the permanent collection.
Despite mixed opinions during the building process, the AGA has flourished in its new space, with approximately 30,000 visitors in the first six weeks after its reopening. Now, the art gallery is an iconic part of the city's architectural identity and is host to a great variety of cultural events and programs.
These two structures, an art installation and an extensive expansion, artfully show the effectiveness of recreating a public space. By revamping existing structures with modern design elements, these spaces merge function with artistry and provide unique reflections of the space they inhabit.
---
---