Music in Film
By Stacey Mullings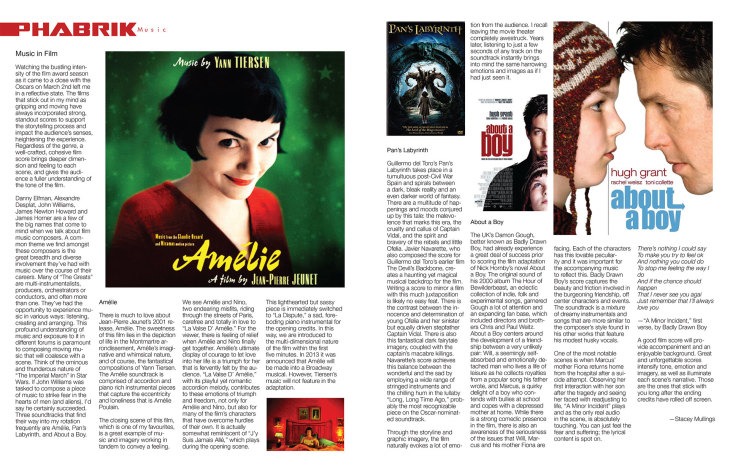 Watching the bustling intensity of the film award season as it came to a close with the Oscars on March 2nd left me in a reflective state. The films that stick out in my mind as gripping and moving have always incorporated strong, standout scores to support the storytelling process and impact the audience's senses, heightening the experience. Regardless of the genre, a well-crafted, cohesive film score brings deeper dimension and feeling to each scene, and gives the audience a fuller understanding of the tone of the film.
Danny Elfman, Alexandre Desplat, John Williams, James Newton Howard and James Horner are a few of the big names that come to mind when we talk about film music composers. A common theme we find amongst these composers is the great breadth and diverse involvement they've had with music over the course of their careers. Many of "The Greats" are multi-instrumentalists, producers, orchestrators or conductors, and often more than one. They've had the opportunity to experience music in various ways: listening, creating and arranging. This profound understanding of music and exposure to it in different forums is paramount to composing moving music that will coalesce with a scene. Think of the ominous and thunderous nature of "The Imperial March" in Star Wars. If John Williams was tasked to compose a piece of music to strike fear in the hearts of men (and aliens), I'd say he certainly succeeded. Three soundtracks that find their way into my rotation frequently are Amélie, Pan's Labyrinth, and About a Boy.
Amélie
There is much to love about Jean-Pierre Jeunet's 2001 release, Amélie. The sweetness of this film lies in the depiction of life in the Montmartre arrondissement, Amélie's imaginative and whimsical nature, and of course, the fantastical compositions of Yann Tiersen. The Amélie soundtrack is comprised of accordion and piano rich instrumental pieces that capture the eccentricity and loneliness that is Amélie Poulain.
The closing scene of this film, which is one of my favourites, is a great example of music and imagery working in tandem to convey a feeling. We see Amélie and Nino, two endearing misfits, riding through the streets of Paris, carefree and totally in love to "La Valse D' Amélie." For the viewer, there is feeling of relief when Amélie and Nino finally get together. Amélie's ultimate display of courage to let love into her life is a triumph for her that is fervently felt by the audience. "La Valse D' Amélie," with its playful yet romantic accordion melody, contributes to these emotions of triumph and freedom, not only for Amélie and Nino, but also for many of the film's characters that have overcome hurdles of their own. It is actually somewhat reminiscent of "J'y Suis Jamais Allé," which plays during the opening scene.
This lighthearted but sassy piece is immediately switched to "La Dispute," a sad, foreboding piano instrumental for the opening credits. In this way, we are introduced to the multi-dimensional nature of the film within the first five minutes. In 2013 it was announced that Amélie will be made into a Broadway musical. However, Tiersen's music will not feature in the adaptation.
Pan's Labyrinth
Guillermo del Toro's Pan's Labyrinth takes place in a tumultuous post-Civil War Spain and spirals between a dark, bleak reality and an even darker world of fantasy. There are a multitude of happenings and moods conjured up by this tale: the malevolence that marks this era, the cruelty and callus of Captain Vidal, and the spirit and bravery of the rebels and little Ofelia. Javier Navarette, who also composed the score for Guillermo del Toro's earlier film The Devil's Backbone, creates a haunting yet magical musical backdrop for the film. Writing a score to mirror a film with this much juxtaposition is likely no easy feat. There is the contrast between the innocence and determination of young Ofelia and her sinister but equally driven stepfather Captain Vidal. There is also this fantastical dark fairytale imagery, coupled with the captain's macabre killings. Navarette's score achieves this balance between the wonderful and the sad by employing a wide range of stringed instruments and the chilling hum in the lullaby "Long, Long Time Ago," probably the most recognizable piece on the Oscar-nominated soundtrack.
Through the storyline and graphic imagery, the film naturally evokes a lot of emotion from the audience. I recall leaving the movie theater completely awestruck. Years later, listening to just a few seconds of any track on the soundtrack instantly brings into mind the same harrowing emotions and images as if I had just seen it.
About a Boy
The UK's Damon Gough, better known as Badly Drawn Boy, had already experience a great deal of success prior to scoring the film adaptation of Nick Hornby's novel About a Boy. The original sound of his 2000 album The Hour of Bewilderbeast, an eclectic collection of indie, folk and experimental songs, garnered Gough a lot of attention and an expanding fan base, which included directors and brothers Chris and Paul Weitz. About a Boy centers around the development of a friendship between a very unlikely pair: Will, a seemingly self-absorbed and emotionally detached man who lives a life of leisure as he collects royalties from a popular song his father wrote, and Marcus, a quirky delight of a boy who contends with bullies at school and copes with a depressed mother at home. While there is a strong comedic presence in the film, there is also an awareness of the seriousness of the issues that Will, Marcus and his mother Fiona are facing. Each of the characters has this lovable peculiarity and it was important for the accompanying music to reflect this. Badly Drawn Boy's score captures the beauty and friction involved in the burgeoning friendship, off center characters and events. The soundtrack is a mixture of dreamy instrumentals and songs that are more similar to the composer's style found in his other works that feature his modest husky vocals.
One of the most notable scenes is when Marcus' mother Fiona returns home from the hospital after a suicide attempt. Observing her first interaction with her son after the tragedy and seeing her faced with readjusting to life, "A Minor Incident" plays and as the only real audio in the scene, is absolutely touching. You can just feel the fear and suffering; the lyrical content is spot on.
There's nothing I could say
To make you try to feel ok
And nothing you could do
To stop me feeling the way I do
And if the chance should happen
That I never see you agai
Just remember that I'll always love you
—"A Minor Incident," first verse, by Badly Drawn Boy
A good film score will provide accompaniment and an enjoyable background. Great and unforgettable scores intensify tone, emotion and imagery, as well as illuminate each scene's narrative. Those are the ones that stick with you long after the ending credits have rolled off screen.
---
---