Men's Trends: Spring/Summer 2014
By Janis Galloway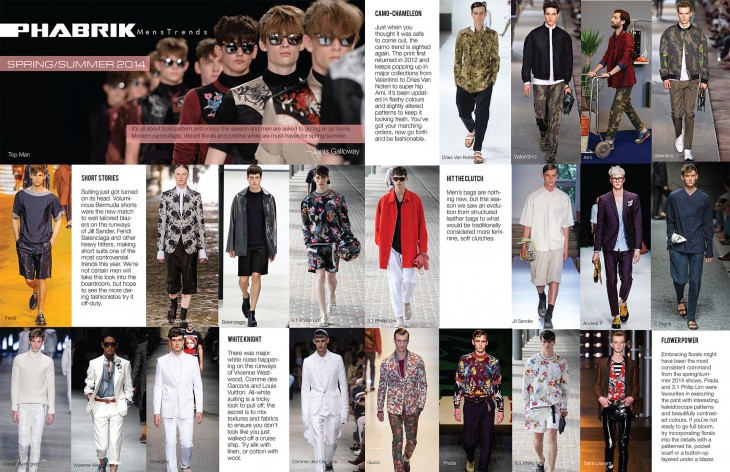 It's all about bold pattern and colour this season and men are asked to go big or go home. Modern camouflage, vibrant florals and pristine white are must-haves for spring and summer.
Short Stories
Suiting just got turned on its head. Voluminous Bermuda shorts were the new match to well tailored blazers on the runways of Jill Sander, Fendi Balenciaga and other heavy hitters, making short suits one of the most controversial trends this year. We're not certain men will take this look into the boardroom, but hope to see the more daring fashionistos try it off-duty.
White Knight
There was major white noise happening on the runways of Vivienne Westwood, Comme des Garcons and Louis Vuitton. All-white suiting is a tricky look to pull off; the secret is to mix textures and fabrics to ensure you don't look like you just walked off a cruise ship. Try silk with linen, or cotton with wool.
Camo-Chameleon
Just when you thought it was safe to come out, the camo trend is sighted again. The print first returned in 2012 and keeps popping up in major collections from Valentino to Dries Van Noten to super hip Ami. It's been updated in flashy colours and slightly altered patterns to keep it looking fresh. You've got your marching orders, now go forth and be fashionable.
Hit the Clutch
Men's bags are nothing new, but this season we saw an evolution from structured leather bags to what would be traditionally considered more feminine, soft clutches.
Flower Power
Embracing florals might have been the most consistent command from the spring/summer 2014 shows. Prada and 3.1 Philip Lim were favourites in executing the print with interesting, kaleidoscope patterns and beautifully contrasted colours. If you're not ready to go full bloom, try incorporating florals into the details with a patterned tie, pocket scarf or a button-up layered under a blazer.
---
---