Designer Profile: Zebina Masse
By Pamela Di Pinto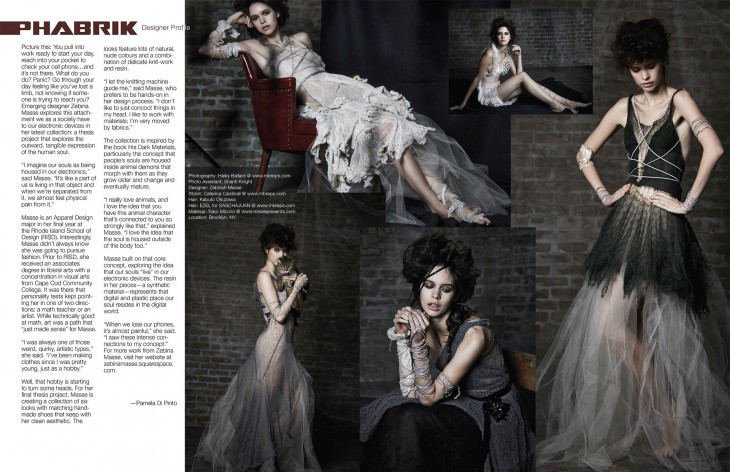 Picture this: You pull into work ready to start your day, reach into your pocket to check your cell phone…and it's not there. What do you do? Panic? Go through your day feeling like you've lost a limb, not knowing if someone is trying to reach you? Emerging designer Zebina Masse explores this attachment we as a society have to our electronic devices in her latest collection: a thesis project that explores the outward, tangible expression of the human soul.
"I imagine our souls as being housed in our electronics," said Masse. "It's like a part of us is living in that object and when we're separated from it, we almost feel physical pain from it."
Masse is an Apparel Design major in her final year at the Rhode Island School of Design (RISD). Interestingly, Masse didn't always know she was going to pursue fashion. Prior to RISD, she received an associates degree in liberal arts with a concentration in visual arts from Cape Cod Community College. It was there that personality tests kept pointing her in one of two directions: a math teacher or an artist. While technically good at math, art was a path that "just made sense" for Masse.
"I was always one of those weird, quirky, artistic types," she said. "I've been making clothes since I was pretty young, just as a hobby."
Well, that hobby is starting to turn some heads. For her final thesis project, Masse is creating a collection of six looks with matching handmade shoes that keep with her clean aesthetic. The looks feature lots of natural, nude colours and a combination of delicate knit-work and resin.
"I let the knitting machine guide me," said Masse, who prefers to be hands-on in her design process. "I don't like to just concoct things in my head. I like to work with materials; I'm very moved by fabrics."
The collection is inspired by the book His Dark Materials, particularly the concept that people's souls are housed inside animal demons that morph with them as they grow older and change and eventually mature.
"I really love animals, and I love the idea that you have this animal character that's connected to you so strongly like that," explained Masse. "I love the idea that the soul is housed outside of the body too."
Masse built on that core concept, exploring the idea that our souls "live" in our electronic devices. The resin in her pieces—a synthetic material—represents that digital and plastic place our soul resides in the digital world.
"When we lose our phones, it's almost painful," she said. "I saw these intense connections to my concept." For more work from Zebina Masse, visit her website at zebinamasse.squarespace.com.
---
---