- By James Kershaw - Photographs + Digital Art by Supa-F Photography Precious Powders Cosmetic houses launch exclusive limited edition compacts each season providing the "must have it first" beauty shopper with something extra special. Clarins Paris' Colour Accents gleaming gold compact houses a radiance enhancing blush+ powder combination imprinted with a modern geometric pattern.Yves Saint Laurent's exquisite Palette Couture Powder can highlight, bronze or contour the face depending on skintone. Those seeking a shimmering visage for holiday festivities can check out Anna Sui Cosmetic's Rose Face Powder compact when it arrives in stores late November. Conceal + Perfect Everybody craves beautiful, flawless skin. Featured here are just a few of the newest concealing and perfecting products launching this autumn. Pore Refining Solutions Instant Perfecting Makeup (matte finish and oil free) and Even Better Eyes Dark Circle Corrector (with it's always cool, puffiness reducing applicator) from cosmetic giant Clinique, Zap&Hide Blemish Concealer from Jane Iredale not only camouflages but also treats with anti-bacterial, anti-inflammatory agents and beneficial botanicals. Giorgio Armani Cosmetics launches Maestro Fusion Makeup Broad Spectrum SPF15, a foundation and BB cream hybrid that promises a natural looking flawless complexion launching at Holt Renfrew stores in October. Skincare and makeup powerhouse Clarins Paris offers Skin Illusion Loose Powder Foundation SPF10 which combines the coverage of a foundation with the lightness of a loose powder to give the illusion of a flawless, bare skin. Treat + Correct On occasion the complexion requires a more intense level of treatment and care. Environmental factors and stress can contribute to the loss of radiance and age the appearance of the skin, this is when cosmetic specialists turn to deep penetrating oils and serums for treatment and correction. Shu Uemura's Tsuya Skin Youthful Radiance Generator was developed to promote the six key parameters for ideal or "tsuya" skin, smoothness, refined pores, translucence, even tone, fine texture and good colour. Clarins Paris' new Hydra Quench Bi-Serum Intensif will restore a youthful radiance to dehydrated skin with omega 3 rich rich Inca Peanut oil, Hyaluronic Acid and fair-trade sourced Katafray Bark extract. Visible Difference Optimizing Skin Serum is part of Elizabeth Arden New York's completely revitalized, reformulated and repackaged cosmetic range updated for the 21st century beauty consumer. Anna Sui (who has attained an almost cult status in Asian markets) offers Rose Treatment Oil which emits a subtle yet intoxicating rose scent. Reveal + Brighten Complexions always look their best with regular exfoliation. Dead skin removal allows the skin to absorb precious moisture and to maintain a youthful radiance. Featured on this page a couple of the best. Elizabeth Arden's Visible Difference Peel & Reveal Revitalizing Mask and Nuxe Paris introduces their seven item alcohol and soap free cleansing range fortified with the beneficial properties of Damascena Rose. The Smell of Success Fragrance houses often launch new versions of successful scents. Featured here are three established scents now available in new forms and one making it's debut this season. The wildly successful Aura by Swarovski is now available in a lighter Eau de Toilette version along with the originally launched Eau de Parfum, Burberry has also launched a lighter EDT version of their own uber successful Burberry Body scent. The house of Thierry Mugler reinterprets their hugely popular scent Alien with Alien Essence Absolue Eau de Parfum, a more intense version of the original. Boucheron, the world renowned jewelry house introduces Jaipur Bracelet Eau de Parfum, a woody floral inspired by the pink city of Rajasthan. Prime + Protect BB creams aka beauty balms and primers are two of the newer beauty aids on the market. The rapidly expanding range of products include new additions from Jane Iredale, one in each category. Smooth Affair Facial Primer & Brightener promises to even skin tone, minimize the appearance of pores all while increasing luminosity and providing easier makeup application with long wear. the line's Glow Time Full Coverage Mineral BB Cream incorporates natural minerals that conceal imperfections,minimize pores, smooth and brighten the skin all with the benefits of a broad spectrum SPF 25 to protect from UV and free radical damage. Pure Finish Mineral Tinted Moisture Cream SPF15 by Elizabeth Arden provides sheer natural coverage with a radiant finish, their Visible Difference Good Morning Retexturizing Primer has a blend of vitamin A and botanical extracts which helps makeup to apply smoothly.
---
- Makeup + styling by James Kershaw - Photographs by Supa-F Photography - Model Kelsey Neutral Territory Earthy neutrals, whether matte or gleaming with flecks of gold are the perfect choice to compliment the array of ivory, buff and camel hued garments so prevalent this season. Shown here are some of the best cosmetic examples of this warm, wearable palette. Some Like it Haute The hautest cosmetic colours of the season are actually tres cool. Blue tinged greys, plums and aubergines make eyes smolder, mauvy pinks light up the cheeks. Lips are luxurious, laquered in deep cherry, bordeaux and crimson.
---
- Photography/Digital Art: studio-e.ca - Art Direction: James Kershaw Homme Scents Each season cosmetic and fragrance houses around the globe launch new scents to tempt the consumer.These scents may be completely new or reinterpretations of existing ones. Spicebomb by Victor & Rolf is a new companion scent to the design duo's Flowerbomb scent for women the house launched in 2005. Burberry has created a limited edition version of their classic Burberry Brit men's scent, Brit summer edition will be available until July. The house of Thierry Mugler presents A*MEN Pure Shot, this limited edition scent is comprised of exotic ingredients such as freezing mint, juniper berry and sequoia. Represented by Oscar Pistorius, this record holding 24 year old Paralympics sprinter runs on black carbon fibre prosthetics due to a double leg amputation and has qualified for the 2012 Summer Olympics to be held in London. The fragrance is meant to incarnate the athlete's powerful strength and desire for victory. Scent of a Woman The fragrance industry is always in a constant state of change. Every season a mind boggling array of completely new or fresh versions of existing scents is introduced into the marketplace. Three of the scents featured are from renowned fashion houses. Elie Saab gained worldwide notoriety when Halle Berry wore the designer to the Academy Awards the year she won the first best actress Oscar awarded to a black actress.The house's first fragrance was successfully launched in 2011. Burberry, the historic British fashion house recognized for the development of the trench coat and an iconic plaid, is introducing a limited edition of their Burberry Body scent,, an alcohol free body mist. Anna Sui, the New York based designer known for her free spirited collections is adding to her Secret Wish collection of fragrances with Fairy Dance, a fruity, floral, musky scent. Two of the fragrances are from houses known for primarily for footwear, Jimmy Choo and Nine West. Jimmy Choo expands their collection by introducing a lighter Eau de Toilette version of their first scent launched last year. Love Fury marks Nine West's initial foray into the world of fragrance, the woody, floral, oriental scent is housed in a bottle cleverly topped with a stiletto shaped stopper. Swarovski synonymous with everything crystal, launches the limited edition Aura by Swarovski Collection Mariage, a light Eau de Toilette (shown),along with a crystal studded collectors edition bottle, a perfumed hair mist and a crystal embellished lip gloss compact.
---
- Photography/Digital Art: studio-e.ca - Art Direction: James Kershaw There is a constant struggle to maintain an adequate hydration level in the skin. The effects of extreme weather conditions,(all too familiar to Canadians), central heating and air conditioning all contribute to skin's water loss. These not only contribute to the feeling of discomfort, but also the visible signs of too little water in the skin's surface layers, such as fIne lines, a dull appearance, and flakiness. The beauty industry has responded with a vast array of potions, lotions and elixirs to help alleviate the problem. Clarins, long known for their expertise in all things relating to beauty are relaunching their Face Treatment Oils. Introduced in the mid 1960's and unchanged in formula since then, they are composed of aromatic essential oils and plant extracts to aid in rebalancing the skin. The newly repackaged oils (the 30ml. bottle now comes with a dropper to precisely measure the amount needed ) will be at Clarins counters nationwide in April. Clinique, another renowned skin care company recently introduced Moisture Surge Intense Skin Fortifying Hydrator for very dry and delicate skin. The product helps to correct and maintain the moisture barrier allowing the skin to retain an elevated level of hydration. Comfort zone, a well known spa line of skin treatments offers hydramemory fluid 24h, which helps to maintain an ample moisture level in the epidermis for up to 24 hours. A lack of water in the skin is a problem that can occur at any age. A loss of firmness is characterized by skin slackening, a loss of elasticity, and the appearance of wrinkles and usually affects women in their forties. Clarins introduces new Extra Firming Day and Night Creams in two formulas, one for dry skins, one for all skin types and is available nationwide now. Clinique's newest age fighter was also developed to fight the loss of firmness, their Repairwear Uplifting firming cream is used morning and evening after your appropriate 3-step skin care regimen and is also available in two formulas.
---
- Model: Kent - Styling: James Kershaw - Photography/Digital art: Studio-e.ca Men's skincare has come a long way in the past decade and so have the attitudes men have concerning the care of their skin. The stigma surrounding men that once used skin preparations as overtly narcissistic, vain beings with unadulterated egos has been replaced with one of a informed man concerned with health, vitality and well-being. Looking and feeling good in your skin is no longer just the privilege of women. Major cosmetic houses on both sides of the globe have extensive lines based on the special needs of a man's skin. A male's skin is often thicker, oilier and can have a coarser appearance than his female counterparts. All issues are now addressed, protection from the elements, hydration, post shaving calming and soothing of the skin. Zone specific areas such as the eyes have there own unique set of problems and solutions. Clinique Skin Supplies For Men's new Anti-fatigue Cooling Eye Gel roll on revitalizes,and brightens while combating puffiness and dark circles. ClarinsMen Age Control Line Control Eye Balm revitalizes, lifts and firms, and reduces puffiness ideal for the more mature male. Exfoliation is key to a clear glowing complexion, Clinique Skin Supplies For Men's Face Scrub prepares the skin for shaving, it removes dead skin and oil buildup, lifts the beard to reduce ingrown hair development. ClarinsMen new Exfoliating Cleanser (June availability) deep cleanses, purifies and refines the skin with natural lava powder, natural micro beads and micro spheres of salicylic acid while eliminating toxins that can dull the complexion. Comfort Zone MANSPAce Hydra Performer After-Shave Restoring Hydrator replenishes lost moisture due to shaving restoring the skin's natural defenses.
---
- Makeup + styling by James Kershaw - Photographs + Digital Art by studio-e.ca Orange Crush Cosmetic houses are enamored with the colour orange this season. As a result, a wide array of beauty products are available in varying intensities of this sun-kissed hue. Bold, intense, colour saturated items scream CHIC!, while sheer lightly pigmented products whisper the message. This spring every feature from eyes, cheeks, lips, even nails can be dressed in this citrusy colour. Could it be love? Maybe. Or just a crush. Haute Chocolate Cosmetic houses always have an ample supply of rich chocolaty hues available. This spring they are an ideal contrast to the season's acid bright and pretty pastel garments and the perfect compliment to the ubiquitous ivory, beige and camel items in store each spring. Bobbi Brown's Rich Brown matte and Chocolate Shimmer Wash eye shadows accessorized with Clinique's Intense Chocolate Quickliner for Eyes creates a warm smoky eye. Jane Iredale's Chemistry In Touch Blush imparts a dewy pink chocolate gleam to the cheeks with a formula enriched with cocoa extract that emits an intoxicating chocolate scent. Layer Clarins' Chocolate lip liner pencil with their new Gloss Prodige in Chocolate for a sexy deep nude mouth. A dark lacquered manicure is de rigueur, OPI's "Suzy Says Da!" would be ideal or "Chocolate Moose" for those seeking something more subtle. The Ultra-Violets Whether you seek a 1950's inspired ultra-feminine, classic look or an avant-garde, futuristic one, this bluish purple is one of the season's coolest colours for fashion and beauty. Violet can be found in every category of cosmetic in a wide variety of finishes and intensities. Eyes are accentuated with shimmer and matte shadows (Clarins), and elongated with pencil, cream or liquid liners (Clinique). Cheeks radiate an ethereal lavender glow (Yves Saint Laurent). Whether you crave lips of lavender or a pout of purple, there is a wide range of items available to achieve the desired effect such as lip plumpers (Jane Iredale), glosses (Clarins), lipstick/gloss/balm hybrids (Bodyography, Clinique). Nail this season's chicest look with amethyst hued polishes (SpaRitual, OPI)
---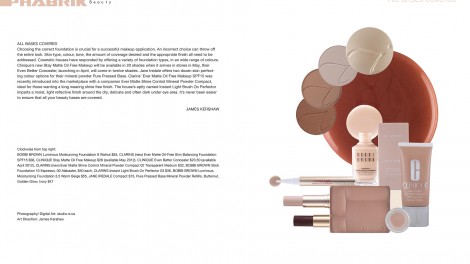 - Art direction by James Kershaw - Photographs + Digital Art by studio-e.ca Choosing the correct foundation is crucial for a successful makeup application. An incorrect choice can throw off the entire look. Skin type, colour, tone, the amount of coverage desired and the appropriate fInish all need to be addressed. Cosmetic houses have responded by offering a variety of foundation types, in an wide range of colours. Clinique's new Stay Matte Oil Free Makeup will be available in 20 shades when it arrives in stores in May, their Even Better Concealer, launching in April, will come in twelve shades. Jane Iredale offers two dozen skin perfecting colour options for their mineral powder Pure Pressed Base. Clarins' Ever Matte Oil Free Makeup SPF15 was recently introduced into the marketplace with a companion Ever Matte Shine Control Mineral Powder Compact, ideal for those wanting a long wearing shine free finish. The house's aptly named Instant Light Brush On Perfector imparts a moist, light reflective finish around the dry, delicate and often dark under eye area. It's never been easier to ensure that all your beauty bases are covered.
---
- Makeup by James Kershaw for Jane Iredale - Photographs by Ernest at studio-e.ca - Model Paula B. Beauty is luminous this season, embellished with an array of shimmering metallics. Ignite your look, day or evening with reflective metal finish cosmetics in a variety of textures. Molten metal finish liquid eye liners and nail lacquers, creamy metallic highlighter pencils and glistening cream shadows should be on every one's "gilty pleasure" list this fall.
---
- By James Kershaw - Photography: Ernest at Studio-e.ca The avid beauty connoisseur's ''must haves'' list this season will include skin perfecting and protecting items such as Clinique's new Moisture Surge Tinted Moisturizer SPF15 or Lise Watier's Teint Parfait Flawless Complexion Foundation and Concealer Duo. The fashion and beauty world is definitely having a colour moment this season, so the next items on the list should include any cosmetic items drenched in colour. Lise Watier's Duo Glam Rouge Infini is a long wear two part lip system that starts with a water based liquid lip stain followed with a pigment rich lipstick, available in a range of brights, pastels and neutrals, the two products may be used separately or together. This season, items to brighten both eyes and cheeks are available in every hue one can imagine. Check out Clarin's new Blush Prodige Illuminating Cheek colour available in six skin flattering shades or their limited edition Neo Pastels Eye Colour & Liner Palette which includes a range of soft neutral and bright shadows paired with a rich and intense cream liner. Complete your list with one of the new innovations in mascara. Clinique introduces Bottom Lash Mascara, a long wear formula applied with a specially designed micro-mini brush that will ensure you find every one of those hard to find delicate lower lashes.
---
- Make up / concept : James Kershaw - Photography / Digital Art: Ernest at Studio-e.ca The 20th century was an era of dramatic and rapid change in the world of beauty. Phabrik Beauty looks at five decades, referencing four from the history books and hypothesizing what might occur in the decade ahead. The eras chosen were those deemed to have produced the most iconic and easily identifiable beauty trends. The worlds of art and cinema have always had great influence on what was determined to be modern and attractive in each era. The 1920s saw the rise of screen stars as beauty icons. Clara Bow, Gloria Swanson and Greta Garbo were the great beauties of the day and all wore the dramatically thin, arched and penciled brow, the "beauty" mark, and the "cupids bow" lip. Beauty pioneers like Elizabeth Arden and Helena Rubinstein appeared on the scene and innovations such as the powder compact, powder rouge, nail lacquer and long wear lipsticks were first introduced during this time. Magazines, movies and that new technology...television...all spread the word of new beauty ideals to the masses during the 1950s. Femme Fatales like Marilyn Monroe and Sophia Loren wore the full, painted brow, the emphatically elongated liquid liner with false lashes, the bright red lip, and the beauty mark also made a return engagement. Helena Rubinstein developed the first modern mascara wand in 1957. The Swinging 60s was truly THE decade of change with popular culture playing an important role in shaping what was considered modern and attractive. The "British Invasion" not only referred to the music scene but also to the many influential fashion and beauty icons that came from the region. Vidal Sassoon's cutting edge, revolutionary cuts, and Mary Quant's development of the miniskirt, hot pants and her own line of cosmetics created worldwide excitement. The most famous model in the world at that time also hailed from the region, Twiggy, the 5'6'', 90 pound waif took the fashion world by storm. Twiggy's petite heart shaped face, was dominated by huge eyes made even more expressive with false lashes, inky eye liner and an array of shimmering pastel eye shadows paired with a pale glossy pout. The1970s had its own versions of what was considered beautiful. As a reaction to the natural, make up free hippy vibe of the late 60s that overlapped into the early seventies, the latter part of the decade saw a rather aggressive, strong make up look develop. Disco and punk, although wildly different, both had profound effects on beauty culture. Cheeks were emblazoned with slashes of colour often combined with dark contouring, and intensely pigmented and shimmered shadows, elongated eyes lined with inky black kohl pencil and brilliant, heavily glossed and often obviously lined and defined mouths were the order of the day. The look was further brought into the limelight by the hottest fashion photographers and designers of the day. Helmut Newton, Guy Bourdin and Chris Von Wangenheim shot layouts and ad campaigns for the houses of Yves Saint Laurent, Christian Dior and Charles Jourdan with models wearing the look often accessorized with either sleek pulled back or enormous masses of crimped hair. This season's Louis Vuitton and Marc Jacobs ad campaigns are excellent examples of the look mildly updated for 2011. The 80s, 90s and the first decade of the 21st century have been mostly filled with looks referenced from the past. What will the next decade bring? Asymmetry, the absence of eyebrows, unusual colour placement such as aqua blue lips and fuchsia lined eyes? Modern cosmetic technologies along with pop culture and fashion icons like Lady Gaga pushing the boundaries of what is acceptable gives hope that maybe something new and exciting will happen in the world of beauty in the next ten years. Only time will tell.
---