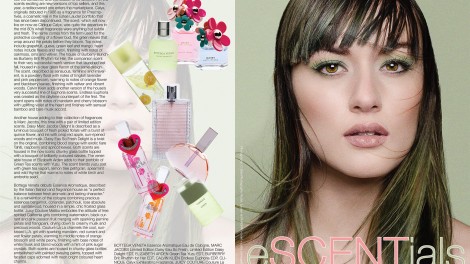 - Photography by C Side Photography - Article + Art Direction by James Kershaw - Model Lauren at PHABRIK model + artist management Each season, fragrance houses launch new scents to entice the consumer, and this season is no different. All new scents exciting are new versions of top sellers, and this year, a rediscovered one enters the marketplace. Calyx, originally debuted in 1986 as a fragrance for Prescriptives, a cosmetic line in the Estee Lauder portfolio that has since been discontinued. The scent, which will now live on now as Clinique Calyx, was quite the departure in the mid 80's when fragrances were anything but subtle and fresh. The name comes from the term used for the protective covering of a flower bud, the green leaves that wrap around the petals before they bloom. Top notes include grapefruit, guava, green leaf and mango; heart notes include freesia and neroli, finishing with notes of oakmoss, orris and vetiver. The house of Burberry launches Burberry Brit Rhythm for Her, the companion scent to their very successful men's version that launched last fall, housed in a clear glass flacon of the same design. The scent, described as sensuous, feminine and irreverent, is a powdery floral with notes of English lavender and pink peppercorn, warming to notes of orange flower and blackberry leaves, finishing with vetiver and vibrant woods. Calvin Klein adds another version of the house's very successful line of Euphoria scents. Endless Euphoria was created as the daytime counterpart of the first. The scent opens with notes of mandarin and cherry blossom with uplifting violet at the heart and finishes with sensual bamboo and bare musk accord. Another house adding to their collection of fragrances is Marc Jacobs, this time with a pair of limited edition scents. Daisy Marc Jacobs Delight is described as a luminous bouquet of fresh picked florals with a burst of quince flower, and iris with crisp red apple, sun-ripened woods and musk. Daisy Eau So Fresh Delight is a twist on the original, combining blood orange with exotic tiare Tahiti, raspberry and apricot leaves. Both scents are housed in the now iconic chunky glass bottle topped with a bouquet of brilliantly coloured daisies. The venerable house of Elizabeth Arden adds to their portfolio of Green Tea scents with Yuzu. The scent blends yuzu zest with green tea vapors, lemon tree petitgrain, spearmint and wild thyme that warms to notes of white birch and ambrette seed. Bottega Veneta debuts Essence Aromatique, described by the Italian fashion and fragrance house as "a perfect balance between fresh aromatic and lasting character." It is a reinvention of the cologne combining precious essences bergamot, coriander, patchouli, rose absolute and sandalwood, housed in a simple, chic frosted glass bottle. Juicy Couture Malibu embodies the attitude of free spirited California girls combining watermelon, black currant and pink passion fruit merging with sparkling jasmine petals and frangipani, drying down to creamy musk and precious woods. Couture La La channels the cool, sun-kissed L.A. girl with sparking mandarin, red currant and wet flower petals, warming to middle notes of orange blossom and white peony, finishing with base notes of white musk and blond woods with a hint of pink sugar crystals. Both scents are housed in chunky glass bottles embellished with painted swaying palms, topped with faceted caps adorned with neon bright coloured heart charms.
---
Perfumers around the globe are constantly experimenting with combinations of essential fragrant oils and aromatic compounds to create new scents the rest of us cannot resist. Be they eaux de cologne, eaux de toilette, or eaux de parfum. Designers then place them in covetable flacons, veritable objet'art that demand to be displayed. Featured here are a few of the most recent introductions to the marketplace. Boucheron Place Vendome is named for the location of the first jeweler to locate there. Frederic Boucheron chose 26 Place Vendome because he believed it to be on the sunniest corner of the square. The shops diamonds would sparkle more brilliantly in the sun that shone through the windows. There are now more than thirty Boucheron boutiques located in the chicest shopping districts on the planet. Boucheron Place Vendome housed in an elegant "quilted" glass cylinder accented in gold. The Eau de Parfum's top notes include orange blossom and pink pepper, warming to heart notes of jasmine and honey, finishing with notes cedarwood and benzoin. The fragrance will debut at Hudson's Bay stores in Canada in October. Jimmy Choo, the name often associated with some of the most desired footwear made today, introduces Flash, the house's second fragrance. Presented in a lilac tinted faceted glass bottle the scent contains notes of pink pepper, tangerine,and tuberose with base notes of powdery white woods. Prada, the Italian fashion house known for setting more than a few of the fashion world's haughtiest trends debuts Prada Candy L'eau. A lighter version of their best selling original , the fragrance is modified with notes of Italian citrus, sweet pea with gourmand base notes of benzoin, white musk and caramel. The bottle is indentical in shape and form to the original, the bright fuschia faux accent ribbon is now a delicate blush pink. The Parisian fashion house of Carven was established in Paris on the Champs Elysees in 1945 by Carmen de Tommasso. The atelier focused on Haute Couture and accessories for the petite woman as well as various fragrances. The first scent, Ma Griffe launched in 1946, was a green chypre with floral notes, it is still sold to this day. The house flourished throughout the fifties and sixties, the designer retired in 1993. The house remained dormant until French designer Guillaume Henry came on board in 2010 revitalizing the house with a new fresh spirit. Carven Le Parfum is presented in a simple chic frosted glass bottle topped with a clear glass stopper encircled with gold thread. the top notes include mandarin blossom, apricot and white hyacinth, the heart has sweet pea and ylang ylang the base has sandalwood, osmanthus and Indonesian Patchouli. Elizabeth Arden, born Florence Nightingale Graham in rural Canada opened her first Red Door Salon on 5th Avenue in New York City in 1910. By the 1930's she had established Red Door Salons in most of the world's fashion capitals. Her mantra (which you will find printed on the box lining of the firms newest scent) "to be beautiful is the birthright of every woman" launches Untold Eau de Parfum. A fruity floral scent with top notes of pink pepper and cassis, middle or heart notes of Egyptian jasmine and gardenia, warming to patchouli, amber and musk. Juicy Couture's newest temptation is the limited edition Viva La Juicy Noir. A seductive version of the firms best selling Viva La juicy scent. The Noir version has top notes of berries and mandarin, middle notes of honeysuckle and gardenia and gourmand base notes of amber, caramel and vanilla. Canadian beauty icon Lise Watier launched her newest scent Something Sweet in April 2013 with a novel idea. Create a two month long web campaign contest to become the official spokesperson for the fragrance. More than 400 contestants submitted photos. Twenty one year old, Coquitlam B.C. resident Jessica Kruger won the honour. The 4th year Simon Fraser University student is the first quadriplegic to win a contest naming her "Beauty Ambassador". (Read more about the contest and winner at http://somethingsweet.lisewatier.com/en/) The scent, which is now available in a convenient purse size roll on version, launched in August has top notes of champagne bubbles and sorbet, notes of melon and red fruit dominate the heart ending with gourmand notes of raspberry and chocolate mousse in the base.
---
By Davines Italy
Davines is a Parma, Italy-based high-end haircare brand distinguished by their innovative approach to beauty through pioneering products and projects. With its Italian heritage the company is now one of the most respected in the industry supplying salons and distributors in over 70 countries, while maintaining a boutique sensibility. Founded in 1983 by the Bollati family, the group has branches in Paris, London, New York, Mexico City, Deventer, Lummen and Dusseldorf, and an international team of more than 350 employees worldwide. Our style is a reflection of our curiosity and openness to the world – different cultures, customs, and people that truly inspire us – and our Italian perspective of history and art, design and fashion, culture and lifestyle because it is our heritage and who we are. We love things that reflect simplicity and harmony because their beauty is always modern. And although we're in tune with today's mood, we set out to create concepts and products that are destined to become classics with their timeless appeal. Quality to us means having the freedom to create the best products with attention and respect for our environment, using high grade, natural ingredients, and applying scientific rigor to every product to guarantee our customers' safety. Quality is also intended by all of us, by our partners and consumers as quality of life. At Davines, we dare to do what we believe in and, rather than conforming to the mainstream, allow intuition to pave our path. This gives us the freedom to develop concepts and products that are original, authentic, and emotionally connected with people. Our work is a thoughtful balance of substance and style, nature and science, people and spirit. It is what enables us to create what we call life-enhancing projects. More than two decades later, the davines community spans over 75 countries, thousands of salons and hundreds upon hundreds of passionate hairdressers. Although we continue to grow, with headquarters in Parma, New York City, Paris, London and Mexico city, our roots are firmly planted in our beginnings as a family-owned research laboratory guided by the same desire for quality products with an authentic approach and timeless appeal. Davines launches More Inside The new styling range, the value of a craftsmanship approach, the quality of formulations conceived to shape the creative expression. For Davines, styling is an art that allows stylists to give shape to their creative expression and make the most of their customers' personality. Staying true to this philosophy, Davines is pleased to present More Inside. These products are honest tools that tell their own story through their characteristics and capabilities, whisper thoughts inspired by their function, elevated to humble and discreet advice, which can be applied to everyday life.
---
By Chantal Girard
Italian owned Davines chose the Folies Bergere in Paris this year for the Davines World Wide Hair Tour. In its long history, the stage at the Folies Bergere has welcomed many of the world's most illustrious entertainers and celebrities. This year, from May 26-29, more than 1,600 hairdressers from 45 nations gathered in the city of light to take in the sights and absorb the concepts and techniques presented by the best the world has to offer. The more than 150 Canadian stylists attending the event made their presence known both on the main stage and behind the scenes. Evening celebrations consisted of various dinner and cocktail parties with the special theme "Midnight in Paris''. Also present at the tour were Phabrik Magazine's Editor in Chief Sandra Sing Fernandes, and Davines distributor Glenn Stogryn of Stogryn Sales. Canada benefitted greatly with Glenn's early vision and belief in Davines, as he was responsible for introducing the line into the Canadian market. To this day, Stogryn Sales is a key sponsor and force with Davines for providing amazing education, along with his support of Western Canada Fashion Week. Three of the twenty-nine North American Regional Davines Artistic team members, Chantal Girard (Edmonton) Vicki Frame (Calgary) and James Abu Ulba (Vancouver), are from the Western Canada Davines Session team. Following the show, members of the Western Canada Davines Session Team got to use their expertise for three editorials, two shot in Paris and one in Milan. The results of this collaboration are featured in this issue. The Western Canada Davines Session Team leader Chantal Girard and Sandra Sing Fernandes were also fortunate to be hosted by Davines at their headquarters in Parma Italy. There they spent a full day learning Davines techniques. An impressive factory and office tour showcased their high quality and eco standards, along with a hands on introduction of Davines' new styling line "More Inside" which is being launched at Western Canada Fashion Week's More Inside cocktail launch party. 1. The show itself consisted of: Samuel Rocher (French visionary that revives the tradition of excellence in simplicity) 2. Davines' World Style Contest (10 finalists 2 of them Canadian, one Canadian the winner of best cut Sandro Macri, best color Nguyen Truong Son from Vietnam and over all winner South African Christilena Erasmus) 3. Allilon (Amazing Education Team from the UK creators of the collections Streb, Aces, Mane Childs Play etc), Aldo Signoretti (stylist behind such looks as Baz Luhrmann's Moulin Rouge and Romeo + Juliet), Vincent Moutault (participated in styling over sixty films seen at Cannes one of his favourites being Berenice Bejo) 4.James Abu Ulba (Canadian winner of WSC 2012), Sustainable Beauty Day (presented by Davines CEO Paolo Braguzzi, NA Creative Director Jorge Blanco, RNA Artistic Team member and top SBD 2012 fundraiser Edmonton's Chantal Girard) and Eco Salon Presentations (winning salons Vancouver's Design House, and Italy's Trecentosessantagradi) 5. Angelo Seminara (Davines' Artistic Director responsible for the hair looks of a variety of houses such as Chloe, Vivienne Westwood, Chanel, YSL, Hermes, Alberta Ferretti, Kenzo and Alexander McQueen campaigns, and duo Brian Suhr (Davines International Education Coordinator responsible for implementing the Davines trainers programs and Kirsten Demant (stylist with a no boundaries approach to hair styling).
---
- Makeup + styling by James Kershaw - Photographs + Digital Art by C Side Photography - Models Kelsey Kelsey A, Rachel A - Location PHABRIK art+design Kiss + Tell What's everybody talking about this autumn? The newest lip products launching from some of the most prolific cosmetic houses on the planet. You will see and hear about not only the haughtest shades of the season, like Clarins' trio of Joli Rouge hues from their Graphic Expression colour story and Lise Watier's Rouge Sublime in Tartan from her Tartantastique collection. The Canadian beauty maven has also added two new shades to her Haute Lumiere gloss collection in which the applicator lid lights up when opened. Elizabeth Arden New York launches a new range of Beautiful Colour Moisturizing Lipstick available in thirty six shades in a variety of finishes, housed in a newly designed silver trimmed gold case embossed with the Elizabeth Arden Red Door design. Jane Iredale reinvents her best selling line of lipsticks with a new formula housed in an elegant slim matte gold tube. The range of twenty four shades combines some of the best selling shades from her previous line with a variety of newly developed fashion aware hues. FantasEYES This will be a very exciting season for eye makeup aficionados. Clinique's new All About Shadow collection includes single, duo and quad eye shadow compacts in an array of classic and fashion forward shades. Clinique uses special fusion layering and variable milling technologies to provide an eyelid smoothing, creamy application all while delivering rich, true colour intensity. Their All About Shadow Primer for Eyes was created to improve colour retention, reduce creasing and extend wear of eye make up, and is available in four shades to reach a broad range of skin tones. Clarins Paris also debuts a few news worthy items this fall, the house's new Be Long Mascara Length + Curve and their 3- Dot Liner (which quickly attained cult status when first introduced as a limited edition item in 2012, now back permanently in the line) both contain Clarins' growth stimulating Be Long Lash Complex which claims a 1mm addition in length after 4 weeks use. The house also debuts their new line of Crayon Khol pencils with brush (eight shades available) to be applied like a traditional khol inside the lash line or along the base of the lashes on the upper or lower lid. "Going green" takes on a whole new meaning this Autumn, as more than a few lines fall colour stories contain eyeshadows in various shades of the verdant hue such as Clarins new Forest Eye Quartet Mineral Palette, Lise Watier's limited edition Tartantastique eye shadow Quartet an Elizabeth Arden's Classic Khaki eye shadow duo. Truly an eye make up lovers fantasy come true!
---
- Product Photographs + Digital Art by C Side Photography - Men's Headshots by Grant Olson Photography - Art Direction + text by James Kershaw - Hair by Nicole Fusco for Revive hair loft - Models Andrew, Cody, Elijah, Diljot at phabrik model + artist management The modern man wants something unusual or exotic. The scents in his fragrance wardrobe, need to reflect the many facets to his personality. A few fragrances featured here are classics, some are new versions of best sellers, and some are totally new creations. Paco Rabanne's 1 Million Intense is a new version of the original scent launched in 2008. This new version has notes of Blood Mandarin, Rose Neroli, Cinnamon and Orris root. The ad campaigns for both the original and the new Intense version feature Alberta born model Mat Gordon. Mont Blanc Legend Intense is a spicier interpretation of the original launched earlier this year. New note additions include Pepperwood and Red Apple. Limited edition versions such as Thierry Mugler's A*Men Pure Malt Creation 2013 was inspired by traditional techniques used to produce the finest whiskies (aged in oak casks), to produce woodier, smoky notes. A few famous European fashion houses are launching new scents to tempt the discerning consumer, Hermes Paris, the house founded in 1837 is now a global powerhouse known for luxury goods. Many of the world's top designers have worked for Hermes, such as Jean Paul Gaultier and Martin Margiela. One of the houses newest scents is Eau De Mandarine Ambree, launched at Holt Renfrew in June, it's already in their top ten sellers. Bottega Veneta, the artisanal leather goods company formed in 1966 introduces Pour Homme , the house's first fragrance for men, following the successful launch of their debut women's scent in 2011. Some of the scent's exotic notes are Canadian Fir Resin, Jamaican Pepper, the key note is Andalusian Labdanum. Burberry, the house known for their iconic plaid accessories and the trench coat debuts another addition to their growing catalogue of men's scents. Burberry Brit Rhythm's top notes consist of basil, and cardamom, middle notes include leather and patchouli, the cedar and Tonka bean round out the base. Azzaro Chrome United, a celebration of friendship, is a new interpretation of the best selling original Azzaro Chrome. The scent's many exotic notes include Sichuan pepper, Ceylon Black Tea, Violet leaf and White Musk. Prada's most recent men's offering is Luna Rossa, launched earlier this year, the scent is named for the "Red Moon" sailboat and team that competes in the America Cup. Some of the scents ingredients are Bitter Orange, Spearmint and Ambroxan molecule. Look for a new limited edition of the scent to debut later this fall. Iconic American Menswear designer John Varvatos', (two time winner of the CFDA American Fashion Award for Menswear Designer of The Year) most recent scent is not brand new, Star U.S.A. launched in 2010 to rave reviews, the scents notes of Red Ginger Essence, Blue Spruce and Venezuelan Tonka Bean struck a cord with consumers, His first scent simply named John Varvatos launched in 2004 is still among the fragrance world's top sellers.
---
- Art Direction + text by James Kershaw - Photographs + Digital Art by C Side Photography - Model Andrew H at phabrik model + artist management The ensuite is becoming the new male room as more men discover the benefits of caring for their skin. Products that treat, protect and rejuvenate are available for all areas head to toe. They now demand products that go beyond the basics to enhance the effects of items they are already using for skin cleansing, hydration and comfortable shaving. Twenty-first century males are seeking problem solvers for anti-aging, wrinkle reduction, and fatigue fighting. Specialty items for the vulnerable eye area that reduce under eye darkness and puffiness, formulas for dark spot correction (hyperpigmentation) caused by sun exposure and wrinkle reducing serums that supplement their daily regimen.
---
- Text + art direction: James Kershaw - Photography + digital art: C Side Photography Beauty Boosters Serums are the cosmetic industry's beauty boosters. The Europeans were the first to appreciate the benefits that serums offer, now every major cosmetic house globally is introducing the concept of serums to their clientele. Serums supplement the daily skin care regimen and boost the efficacy of other skin preparations since they contain a much higher concentration of active ingredients than regular creams or lotions. Serums are an efficient way to customize any beauty program to the changing needs of the skin whether due to environmental factors, health, stress or the effects of aging. Clarins Paris, a pioneer in the development of specialized serums, launches Double Serum Complete Age Control Concentrate. This next generation of serums combines a lipidic (oil) + hydric (water) system housed in a bottle with a dispensing system designed to deliver the ideal blend of both. The formula contains twenty plant extracts the house chose for their exceptional performance in stimulating the five vital functions of the skin, nutrition, oxygenation, regeneration, protection and hydration. The formula was designed to be effective for all skin types beginning at age twenty five. Elizabeth Arden New York's Visible Difference Optimizing Skin Serum contains a retinyl complex that gently retexturizes and renews skin's clarity as it evens skin tone optimizing the effect of the daily skin care regimen. The serum is suitable for all skin types including sensitive. Prevage Anti-aging + Intensive Repair Daily Serum promises to improve the appearance of fine lines and "lift" the look of the skin within fifteen minutes of application. This new formula combines Idebenone with Arazine which helps to minimize the visible signs of aging caused by cellular inflammation. Nuxelle Jeunesse Youth and Radiance Revealing Fluid by Nuxe Paris is referred to by the house as the first "floral battery'' that repairs Mitochondrial DNA to reveal skin's youth and visibly recharge the complexion's radiance. Passion Flower extract, Anchusa extract, rich in poly phenols and Poppy extract, obtained from organic poppy petals aids in cellular nutrition. This serum may be used by normal or combination skins on its own or in conjunction with daily skincare for dry or very dry skins by women of all ages. Visionary Care The delicate skin of the eye is one of the first areas to show signs of fatigue and the effects of aging. There are a variety of eye treatments available now to address these symptoms which include puffiness, dark circles, fine lines and crows feet. Eye treatments need to be both gentle for this often sensitive area, yet rich enough to nourishan area with virtually no natural protection. Featured here are some recently introduced products as well as a few tried and true classics. Clarins Paris' Super Restorative Total Eye Concentrate treats the mature eye from temple to temple, targeting frown lines, puffiness, dark circles and crows feet, while the skin care authority's Eye Contour Gel is the ideal first eye treatment for the younger set just starting to think about age prevention. Clinique's new Repairwear Laser Focus Wrinkle Correcting Eye Cream builds natural elastin to visibly reduce wrinkles, improve texture and repair UV damage. The brand claims up to a 54% decrease in smile lines around the eyes. The Prevage Anti-Aging Eye Serum claims to not only minimize fine lines, deeper wrinkles, darkness and puffiness, but to diminish discolouration and age spots due to sun damage, resulting in a brighter, firmer and lifted appearance. All eye preparations should be applied with gentle pressing or tapping motions avoiding pulling or stretching of the delicate tissue around the eyes. Of course no eye treatment can be fully effective if the area is being harshly handled or aggressively cleansed. Products developed specifically for the area should always be used to supplement and fortify the positive effects of creams, gels and serums. Prebiotic Micellar Water by Canadian beauty maven Lise Watier is a no rinse eye and face cleanser to utilize **prebiotic sugars with the shield effect of Teflose. **Prebiotic molecules are sugars that stimulate the growth of beneficial bacteria needed to balance out natural skin flora. In June, Clarins Paris will launch two newly reformulated eye make up removers, one for waterproof eye make up and the Gentle Eye Make-up Remover featured. The Gentle Eye Make-up remover contains certified organic cornflower and rose floral waters with chamomile extract obtained through organic farming. Clarins also added D-Panthenol to help protect and strengthen lashes.
---
- Makeup + styling by James Kershaw - Photographs + Digital Art by C Side Photography - Models Kelsey Kelsey A, Rachel A at PHABRIK model & artist management Lip Service What's on every body's lips this season? Anything they desire. Whether seeking a high gloss or a sophisticated satin finish, full coverage or a sheer tint, bold brights, pretty pastels or natural nudes, cosmetic houses have responded with a variety of products to enhance the smile. Clinique's new Chubby Stick Intense Moisturizing Lip Colour Balm with mango and shea butter is a medium coverage companion to the brand's hugely popular original sheer version. Jane Iredale's PureGloss is newly reformulated and repackaged available in eighteen shades including seven of her best sellers from it's previous incarnation. The house of Burberry took their cue from their spring/summer 2013 Burberry Prorsum runway presentation, which showed a glowing complexion, a nearly nude eye with emphasis on the lips. Burberry Beauty's Lip Glow in Mallow Pink or Coral are certainly on trend. Clarins Paris introduces their first age-defying lipstick. Rouge Eclat`s formula, available in fifteen colours, contains a combination of mimosa, jojoba and sunflower pure plant waxes along with phytosphingosine which protects against dehydration, boosts collagen synthesis and fights the formation of fine lines. Look for the house's limited edition Instant Smooth Crystal Lip Gel, available in late May to add a brilliant glow to your summer makeup. Smooth Operators A beautiful, luminous and smooth complexion is the goal for many and cosmetic houses have stepped up, offering a variety of options to achieve just that. Perfect and protect with Clinique's Even Better Compact Make up SPF15 or Clarins' BB Cream Skin Perfecting Cream SPF25.  Add a fresh healthy glow with the limited edition Lise Watier Pink Power blush and Pastel Power Illuminating Beads or Clarins' limited edition Palette Eclat Face + Blush powder compact. Seeking a radiant sun-kissed glow? Clarins' limited edition Splendours Summer Bronzing Compact will arrive in stores in May. OptimEYES Audacious brights, soft feminine pastels, and high contrast black and white shadows are prevalent this season. Extravagantly lined eyes are everywhere. The reason? Couture houses continuing fascination with the 50's and 60's and many designers penchant for all things Asian. Achieved with liquid or pencil liners, and complemented with dense, full lush lashes achieved with multiple coats of mascara such as Clinique's High Impact Waterproof mascara. Lids are swept with aqueous blues and greens from houses such as Jane Iredale and Lise Watier or black and white accented with Iris and taupe from Clarins. Making it easy to optimize your most expressive feature.
---
Angelo Seminara was first introduced into the world of hair at the young age of 11 in his hometown in Southern Italy. He started off as a trainee in a barbershop and then 5 years later made the move to Rome with London always in the back of his mind. Following a move to London in 1995 Angelo became Trevor Sorbie's protégé and International Creative Director. He then chose to work on his freelance career and in 2011 became the Artistic Director for Davines. Davines is a natural based hair care line made in Parma Italy, that has been evolving into an international family owned brand that strives to balance beauty and sustainability in all that they do. Today the company is a cosmopolitan and pioneering company that offers hairdressers and their clients the opportunity to become part of a dynamic, multicultural community and unique brand lifestyle. Angelo's refined taste, spirit of research and love for nature, is a perfect match to Davines' philosophy of Sustainable Beauty. In his role Angelo Seminara interprets the Davines vision of beauty and directs their hair image, influencing techniques and style. Davines institutional collections bear his signature, he stars in numerous international shows, in addition to making his talent and experience available to the company for teaching courses and the development of new products. In Western Canada we are very fortunate to have the Western Canada Davines Session Team who as of late got to par take in hands on cutting and editorial styling with the Art Director himself. Currently the co-ordinator of the team Chantal Girard is collaborating with Tony Ricci to bring Angelo back to the West to do an editorial avant garde styling class at Ricci's new Academy in Edmonton, along with a cutting class and Flamboyage color classes with Angelo's colorist Edoardo Paludo, which will take place at various Edmonton based salons. May 25-29 members of The Western Canada Session Team will also watch Angelo at Davines' World Wide Hair Tour in Paris. He will also be doing a North American tour in 2013 and stopping in Seattle, New York, Nashville, Toronto, and Minneapolis. Angelo has widely been considered a star of international hair styling with accolades such as British Hairdresser of the year in 2007, 2010, and most recent 2012. In 2011-2012 also won AIPP Grand Trophy, as a session hair stylist Angelo is also involved with at least 30 international shows in Paris, New York, London, and Milan. His work can also be seen in fashion magazines such as Harpers Bazaar, Vanity Fair, Italian Vogue, Mixte, Spanish Vogue, Turkish Vogue, Korean Vogue, Japanese Numero, Io Donna, Another Man, Sunday Times, Dazed and Confused,Grazia, Q Magazine, Mojo, Evening Standard, Hello Magazine. His latest exhibitions with Chloe and Selfridges are definitely something to see. For more on Angleo Seminara visit his web site @ www.angeloseminara.com
---