Beauty
Beauty, Hair + Health
- Stylist: Vincent Moutault - Hair Assistants: ​Chantal Girard, Sara Murphy, Jami Cuglietta, Julian Scott, Ray Nann​inga​ and Emma Spense - Photography: Ernest of Studio E Photography - Clothing provided by: LUXX ready to wear - Makeup: James Kershaw - Models: Brittany W., Lauren B., Amanda, Grace, PHABRIK artist + model management Finding the courage to follow a passion can be difficult when you lack the support of the people around you, but Vincent Moutault is an incredible example of the magic that can happen when everything falls into place. Growing up, he was drawn to the artistry of hair and knew that he wanted to pursue a career in hair styling. His family, however, wanted him to be an engineer and he struggled with not being able to tell his father that he wanted to do hair, a career that his family didn't consider acceptable. Knowing that he would eventually have to make a decision about what he wanted to do about his future, he began competing in triathlons, focusing on building his mind, body, and spirit. Sadly, it wasn't as simple as that—a sudden accident left him in a coma for an extended period of time. Thankfully, he made a full recovery. After waking up from the coma, he knew he had to pursue his passion for hair. Moutault fell in love with the beauty and expressiveness of hair, its ability to speak about people, as well as the way the right cut could change someone's life. Reflecting on this, he built his salon in Dijon, France, named La Loge 220. The salon has a unique feature: the absence of mirrors. Rather than relying on feedback during the cutting process, he spends time building a relationship with each client, earning their trust and cutting their hair freely, showing them only the finished look. This unconventional approach was very successful, and the number of confident and empowered clients grew, to a point where people began to travel to see him. In 2007, he was introduced to Davines, a company that reflected his values: a love of artistry and creativity, an emphasis on constant learning and growth, and a passion for natural beauty. A constant learner, Moutault became an educator for Davines, first in France and then internationally. His genuine enthusiasm for sharing knowledge shines through as he is fun, outgoing, caring, and truly approachable. Moutault is constantly working on his English in order to better communicate his ideas with non-francophone students, and his eagerness to share and learn in a fun environment makes him an unforgettable teacher. His artistry is evident as he moves freely and organically to create beautiful hairstyles, something the fashion industry has recognized this as well. His work has been featured internationally in fashion and hair editorials, including Doleres Magazine, Art Actuel, Estetica, and most recently, Bambi Magazine. With an incredible curriculum vitae, Moutault has combined his incredible talent with a passion for constant growth. He likens this to running a marathon, focusing on the journey and process instead of the end goal. Moutault's attitude of constantly working hard and pushing further to reach his goals, one mountain at a time, has brought him to where he is today. By Danielle Fuechtmann
---
- Photography + Digital Art by C Side Photography - Article, Makeup + Art Direction by James Kershaw - Models Gaydra R., Rachel, Grace, Lauren at PHABRIK artist + model management Read My Lips What's on everyone's lips this Spring? Colour! Everything from soft pastels to vivid brights in matte, cream or glossy finishes. No bland beiges this season! Clarins Paris proposes a trio of sheer vivid brights in their Joli Rouge Brilliant line, and a pair of new shades, a bright coral and a new crystal clear (not shown), from the house's Gloss Prodige line presented in the Opalescence Spring makeup collection. Jane Iredale adds two new shades to her very successful line of Lip Fixation lip stains, playfully named after moods or emotions; this spring, look for a vivid coral named Craze and a mauve plum named Compulsion. Each colour is paired with a delicately shimmered companion gloss. Lise Watier also adds to her lip stain collection with the Duo Glam Rouge Infini, her long wear stain mated with a matching lipstick for a chic sophisticated cream finish. Elizabeth Arden's new range of Beautiful Colour lipsticks launched in Fall 2013, with two very on trend brights: their Neo Classic Coral and Ultraviolet, both ideal for this season. Sweet Cheeks One of the easiest ways to brighten your look is with a pop of colour on the cheeks. Clinique's new Cheek Pops, the Gerber daisy embossed blush shown here in three of the four shades available has an innovative formula that begins as a liquid that is then transformed though a slow baking process into a soft powder that imparts long-wearing, silky smooth, sheer vibrant colour. PurMinerals launches two new ways to blush this season: cream and powder formulas, both of which are paraben free and have no fillers or chemical dyes. The cream formula is available in two shades, while the powder is available in four. Clarins Paris launches a new version of their much loved Multi-Blush. Clarins describes their newest cheek enhancer (which may also be used on the lips) as a sensorial cream blush that merges with the skin. This new product, available in four bright yet very natural looking shades, is enriched with plant extracts, mimosa, rose water and jojoba to help maintain optimal hydration. The subtly shimmered Havana Bronzing Powder by Lise Watier delivers that much desired sun kissed glow; this item is also available in a matte finish. Jane Iredale, one of the pioneers in the mineral makeup industry, offers a new shade of the popular In Touch Highlighter, the new Comfort shade. It is a gold shimmered pink and is a perfect companion product to her In Touch cream blush sticks. Easy on the Eyes Some of the planet's most forward fashion houses, such as Dior, Chanel, Prada and Lanvin, as well as Versace, in their spring ad campaigns with Lady GaGa, are showing models wearing the lightest, freshest eye makeup seen in years. Soft pastels or shimmering metallics are swept across lids, often alone or subtly embellished with a flick of liner and mascara. Cosmetic houses this season seem to have an "easy on the eyes'' attitude. Lise Watier's Imagine eye shadow quad is a mix of cool and warm shades with a soft pearlized finish inspired by the sky. Clarins' Vibrant Light Mineral Palette blends cool lilac and violet with soft grey and a shimmering silver highlighter, while Jane Iredale's new aptly named Golden Girl trio is a blend of soft warm metallics that may be accentuated with her new gel liner in brown.
---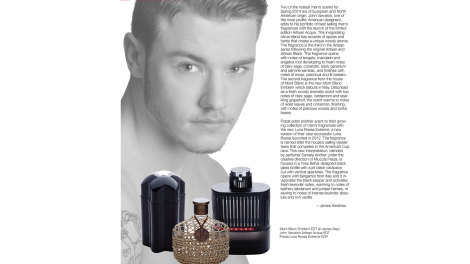 - Photography Grant Olson - Article + Art Direction by James Kershaw - Model Ross L. at PHABRIK model + artist management Two of the hottest men's scents for Spring 2014 are of European and North American origin. John Varvatos, one of the most prolific American designers, adds to his portfolio of best selling men's fragrances with the launch of the limited edition Artisan Acqua. This invigorating citrus blend has accents of spices and herbs that create a unique woody aroma. The fragrance is the third in the Artisan series following the original Artisan and Artisan Black. The fragrance opens with notes of tangelo, mandarin and angelica root developing to heart notes of clary sage, coriander, basil, geranium and jasmine sambac, and finishes with notes of moss, patchouli and fir balsam.The second fragrance from the house of Mont Blanc is the new Mont Blanc Emblem which debuts in May. Described as a fresh woody aromatic scent with top notes of clary sage, cardamom and sparkling grapefruit, the scent warms to notes of violet leaves and cinnamon, finishing with notes of precious woods and tonka beans. Prada adds another scent to their growing collection of men's fragrances with the new Luna Rossa Extreme, a new version of their uber successful Luna Rossa launched in 2012. The fragrance is named after the house's sailing vessel/team that competes in the America's Cup race. This new interpretation, blended by perfumer Daniela Andrier under the creative direction of Miuccia Prada, is housed in a Yves Behar designed black glass bottle with a jet black carapace cut with vertical apertures. The fragrance opens with bergamot from Italy and it invigorates the black pepper and activates fresh lavender notes, warming to notes of leathery labdanum and juniper berries, m aturing to notes of intense lavender absolute and rich vanilla.
---
– Photography + Digital Art by studio-e.ca and C Side Photography – Article, Makeup + Art Direction by James Kershaw - Model Lauren at PHABRIK model + artist management Fringe Benefits Each season, cosmetic houses launch new items in an attempt to fulfill everyone's desire to find their ideal lash enhancing product. This season is no exception. Elizabeth Arden Prevage Clinical Lash + Brow Enhancing Serum contains a triple peptide complex that claims to support the lash's natural renewal cycle to promote lush, healthy revitalized lashes when applied daily. Many houses offer a variety of mascaras that contain lash enhancing ingredients. Lise Watier's Dramatique Lash Booster Mascara utilizes the benefits of apple staminal cell derivatives to strengthen and regenerate the eyelash structure to achieve faster growth, while Clarins' Be Long Mascara contains a complex of matrikine, a peptide to stimulate lash growth combined with panthenol for strength. Elizabeth Arden's Beautiful Colour Lash Enhancing Mascara is also peptide rich and claims an increase in lash volume and density. The formula instantly lengthens, curls and colours the lashes and is available in a limited edition pearlized brilliant blue this season. Clinique's Lash Power Feathering Mascara offers an innovative formula with an advanced thermal technology initially developed for humid Asian environments that is resistant to tears, rain, perspiration, chlorinated and salt water. However, it is still able to be removed with warm water (39°C/103F). The mascara utilizes the benefits of Pullulan, a polysaccharide with a honey-like consistency to help stretch lashes during application. Temporary false lashes such as the examples from Lise Watier and Ardell are a tried and true standby for those seeking lush voluminous lashes on a temporary basis. All Bases Covered A successful makeup application depends on having a smooth even base on which colour is applied. Cosmetics applied on a properly primed complexion will have greater longevity. Lise Watier's Base Miracle, available in two formulas, one for normal/dry and one for combination/oily skins, decreases the appearance of fine lines and pores. It also imparts a soft matte finish and prepares the skin for a perfect makeup application. Her Luminous Correcting Primer adds a glow while colour correcting, Banane (shown) illuminates and helps correct moderate redness, and Rose Lilas corrects a sallow skin. Abricot restores a healthy glow and Vert neutralizes ruddiness and blotchiness. Both products may be mixed together to form a custom blend ideal for the particular needs of the skin. Clarins Paris, famous for their Instant Smooth Perfecting Touch primer, launches Instant Light Radiance Boosting Complexion Base. This new product restores vitality and radiance, while correcting small imperfections. The complexion base contains katafray bark extract, which encourages the skin's natural hydration mechanisms, and white tea to aid the skin's defense from pollution and environmental aggressions. Radiance Boosting Base is available in three tones: 01 Rose, which adds radiance to all skins, 02 Champagne, which reduces redness, and 03 Peach, which adds adds warmth and radiance to deeper skin tones. Clinique debuts their new CC Cream Compact SPF25, an alternative to liquid CC creams. This product corrects and reflects light to neutralize perfections and hydrate the skin.  Once the complexion has been primed for makeup, the next very important step for those wearing foundation is, of course, to chose the correct finish and colour. Clarins launches four new global shades to their Skin Illusion SPF10 Natural Radiance Foundation line. The house launches, as they do each season, a limite d edition face compact. The Opalescence compact has an ultra-fine, soft powder texture that illuminates and matifies with a lightweight finish. Elizabeth Arden New York introduces Flawless Finish Perfectly Nude Liquid Makeup SPF15 with hydro-pigment technology. Pigments are enveloped with moisture rich, plant based emollient that mimic the skin's flexibility and smoothness, providing a lightweight, colour true, long lasting, flawless finish. The company's new Flawless Finish Correcting + Highlighting pen is the ideal companion; this item erases signs of fatigue, restores radiance and masks imperfections, dark circles, blemishes and ruddiness.
---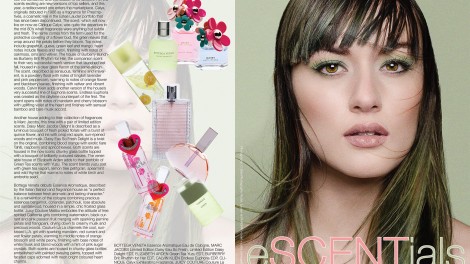 - Photography by C Side Photography - Article + Art Direction by James Kershaw - Model Lauren at PHABRIK model + artist management Each season, fragrance houses launch new scents to entice the consumer, and this season is no different. All new scents exciting are new versions of top sellers, and this year, a rediscovered one enters the marketplace. Calyx, originally debuted in 1986 as a fragrance for Prescriptives, a cosmetic line in the Estee Lauder portfolio that has since been discontinued. The scent, which will now live on now as Clinique Calyx, was quite the departure in the mid 80's when fragrances were anything but subtle and fresh. The name comes from the term used for the protective covering of a flower bud, the green leaves that wrap around the petals before they bloom. Top notes include grapefruit, guava, green leaf and mango; heart notes include freesia and neroli, finishing with notes of oakmoss, orris and vetiver. The house of Burberry launches Burberry Brit Rhythm for Her, the companion scent to their very successful men's version that launched last fall, housed in a clear glass flacon of the same design. The scent, described as sensuous, feminine and irreverent, is a powdery floral with notes of English lavender and pink peppercorn, warming to notes of orange flower and blackberry leaves, finishing with vetiver and vibrant woods. Calvin Klein adds another version of the house's very successful line of Euphoria scents. Endless Euphoria was created as the daytime counterpart of the first. The scent opens with notes of mandarin and cherry blossom with uplifting violet at the heart and finishes with sensual bamboo and bare musk accord. Another house adding to their collection of fragrances is Marc Jacobs, this time with a pair of limited edition scents. Daisy Marc Jacobs Delight is described as a luminous bouquet of fresh picked florals with a burst of quince flower, and iris with crisp red apple, sun-ripened woods and musk. Daisy Eau So Fresh Delight is a twist on the original, combining blood orange with exotic tiare Tahiti, raspberry and apricot leaves. Both scents are housed in the now iconic chunky glass bottle topped with a bouquet of brilliantly coloured daisies. The venerable house of Elizabeth Arden adds to their portfolio of Green Tea scents with Yuzu. The scent blends yuzu zest with green tea vapors, lemon tree petitgrain, spearmint and wild thyme that warms to notes of white birch and ambrette seed. Bottega Veneta debuts Essence Aromatique, described by the Italian fashion and fragrance house as "a perfect balance between fresh aromatic and lasting character." It is a reinvention of the cologne combining precious essences bergamot, coriander, patchouli, rose absolute and sandalwood, housed in a simple, chic frosted glass bottle. Juicy Couture Malibu embodies the attitude of free spirited California girls combining watermelon, black currant and pink passion fruit merging with sparkling jasmine petals and frangipani, drying down to creamy musk and precious woods. Couture La La channels the cool, sun-kissed L.A. girl with sparking mandarin, red currant and wet flower petals, warming to middle notes of orange blossom and white peony, finishing with base notes of white musk and blond woods with a hint of pink sugar crystals. Both scents are housed in chunky glass bottles embellished with painted swaying palms, topped with faceted caps adorned with neon bright coloured heart charms.
---
Perfumers around the globe are constantly experimenting with combinations of essential fragrant oils and aromatic compounds to create new scents the rest of us cannot resist. Be they eaux de cologne, eaux de toilette, or eaux de parfum. Designers then place them in covetable flacons, veritable objet'art that demand to be displayed. Featured here are a few of the most recent introductions to the marketplace. Boucheron Place Vendome is named for the location of the first jeweler to locate there. Frederic Boucheron chose 26 Place Vendome because he believed it to be on the sunniest corner of the square. The shops diamonds would sparkle more brilliantly in the sun that shone through the windows. There are now more than thirty Boucheron boutiques located in the chicest shopping districts on the planet. Boucheron Place Vendome housed in an elegant "quilted" glass cylinder accented in gold. The Eau de Parfum's top notes include orange blossom and pink pepper, warming to heart notes of jasmine and honey, finishing with notes cedarwood and benzoin. The fragrance will debut at Hudson's Bay stores in Canada in October. Jimmy Choo, the name often associated with some of the most desired footwear made today, introduces Flash, the house's second fragrance. Presented in a lilac tinted faceted glass bottle the scent contains notes of pink pepper, tangerine,and tuberose with base notes of powdery white woods. Prada, the Italian fashion house known for setting more than a few of the fashion world's haughtiest trends debuts Prada Candy L'eau. A lighter version of their best selling original , the fragrance is modified with notes of Italian citrus, sweet pea with gourmand base notes of benzoin, white musk and caramel. The bottle is indentical in shape and form to the original, the bright fuschia faux accent ribbon is now a delicate blush pink. The Parisian fashion house of Carven was established in Paris on the Champs Elysees in 1945 by Carmen de Tommasso. The atelier focused on Haute Couture and accessories for the petite woman as well as various fragrances. The first scent, Ma Griffe launched in 1946, was a green chypre with floral notes, it is still sold to this day. The house flourished throughout the fifties and sixties, the designer retired in 1993. The house remained dormant until French designer Guillaume Henry came on board in 2010 revitalizing the house with a new fresh spirit. Carven Le Parfum is presented in a simple chic frosted glass bottle topped with a clear glass stopper encircled with gold thread. the top notes include mandarin blossom, apricot and white hyacinth, the heart has sweet pea and ylang ylang the base has sandalwood, osmanthus and Indonesian Patchouli. Elizabeth Arden, born Florence Nightingale Graham in rural Canada opened her first Red Door Salon on 5th Avenue in New York City in 1910. By the 1930's she had established Red Door Salons in most of the world's fashion capitals. Her mantra (which you will find printed on the box lining of the firms newest scent) "to be beautiful is the birthright of every woman" launches Untold Eau de Parfum. A fruity floral scent with top notes of pink pepper and cassis, middle or heart notes of Egyptian jasmine and gardenia, warming to patchouli, amber and musk. Juicy Couture's newest temptation is the limited edition Viva La Juicy Noir. A seductive version of the firms best selling Viva La juicy scent. The Noir version has top notes of berries and mandarin, middle notes of honeysuckle and gardenia and gourmand base notes of amber, caramel and vanilla. Canadian beauty icon Lise Watier launched her newest scent Something Sweet in April 2013 with a novel idea. Create a two month long web campaign contest to become the official spokesperson for the fragrance. More than 400 contestants submitted photos. Twenty one year old, Coquitlam B.C. resident Jessica Kruger won the honour. The 4th year Simon Fraser University student is the first quadriplegic to win a contest naming her "Beauty Ambassador". (Read more about the contest and winner at http://somethingsweet.lisewatier.com/en/) The scent, which is now available in a convenient purse size roll on version, launched in August has top notes of champagne bubbles and sorbet, notes of melon and red fruit dominate the heart ending with gourmand notes of raspberry and chocolate mousse in the base.
---
By Davines Italy
Davines is a Parma, Italy-based high-end haircare brand distinguished by their innovative approach to beauty through pioneering products and projects. With its Italian heritage the company is now one of the most respected in the industry supplying salons and distributors in over 70 countries, while maintaining a boutique sensibility. Founded in 1983 by the Bollati family, the group has branches in Paris, London, New York, Mexico City, Deventer, Lummen and Dusseldorf, and an international team of more than 350 employees worldwide. Our style is a reflection of our curiosity and openness to the world – different cultures, customs, and people that truly inspire us – and our Italian perspective of history and art, design and fashion, culture and lifestyle because it is our heritage and who we are. We love things that reflect simplicity and harmony because their beauty is always modern. And although we're in tune with today's mood, we set out to create concepts and products that are destined to become classics with their timeless appeal. Quality to us means having the freedom to create the best products with attention and respect for our environment, using high grade, natural ingredients, and applying scientific rigor to every product to guarantee our customers' safety. Quality is also intended by all of us, by our partners and consumers as quality of life. At Davines, we dare to do what we believe in and, rather than conforming to the mainstream, allow intuition to pave our path. This gives us the freedom to develop concepts and products that are original, authentic, and emotionally connected with people. Our work is a thoughtful balance of substance and style, nature and science, people and spirit. It is what enables us to create what we call life-enhancing projects. More than two decades later, the davines community spans over 75 countries, thousands of salons and hundreds upon hundreds of passionate hairdressers. Although we continue to grow, with headquarters in Parma, New York City, Paris, London and Mexico city, our roots are firmly planted in our beginnings as a family-owned research laboratory guided by the same desire for quality products with an authentic approach and timeless appeal. Davines launches More Inside The new styling range, the value of a craftsmanship approach, the quality of formulations conceived to shape the creative expression. For Davines, styling is an art that allows stylists to give shape to their creative expression and make the most of their customers' personality. Staying true to this philosophy, Davines is pleased to present More Inside. These products are honest tools that tell their own story through their characteristics and capabilities, whisper thoughts inspired by their function, elevated to humble and discreet advice, which can be applied to everyday life.
---
By Chantal Girard
Italian owned Davines chose the Folies Bergere in Paris this year for the Davines World Wide Hair Tour. In its long history, the stage at the Folies Bergere has welcomed many of the world's most illustrious entertainers and celebrities. This year, from May 26-29, more than 1,600 hairdressers from 45 nations gathered in the city of light to take in the sights and absorb the concepts and techniques presented by the best the world has to offer. The more than 150 Canadian stylists attending the event made their presence known both on the main stage and behind the scenes. Evening celebrations consisted of various dinner and cocktail parties with the special theme "Midnight in Paris''. Also present at the tour were Phabrik Magazine's Editor in Chief Sandra Sing Fernandes, and Davines distributor Glenn Stogryn of Stogryn Sales. Canada benefitted greatly with Glenn's early vision and belief in Davines, as he was responsible for introducing the line into the Canadian market. To this day, Stogryn Sales is a key sponsor and force with Davines for providing amazing education, along with his support of Western Canada Fashion Week. Three of the twenty-nine North American Regional Davines Artistic team members, Chantal Girard (Edmonton) Vicki Frame (Calgary) and James Abu Ulba (Vancouver), are from the Western Canada Davines Session team. Following the show, members of the Western Canada Davines Session Team got to use their expertise for three editorials, two shot in Paris and one in Milan. The results of this collaboration are featured in this issue. The Western Canada Davines Session Team leader Chantal Girard and Sandra Sing Fernandes were also fortunate to be hosted by Davines at their headquarters in Parma Italy. There they spent a full day learning Davines techniques. An impressive factory and office tour showcased their high quality and eco standards, along with a hands on introduction of Davines' new styling line "More Inside" which is being launched at Western Canada Fashion Week's More Inside cocktail launch party. 1. The show itself consisted of: Samuel Rocher (French visionary that revives the tradition of excellence in simplicity) 2. Davines' World Style Contest (10 finalists 2 of them Canadian, one Canadian the winner of best cut Sandro Macri, best color Nguyen Truong Son from Vietnam and over all winner South African Christilena Erasmus) 3. Allilon (Amazing Education Team from the UK creators of the collections Streb, Aces, Mane Childs Play etc), Aldo Signoretti (stylist behind such looks as Baz Luhrmann's Moulin Rouge and Romeo + Juliet), Vincent Moutault (participated in styling over sixty films seen at Cannes one of his favourites being Berenice Bejo) 4.James Abu Ulba (Canadian winner of WSC 2012), Sustainable Beauty Day (presented by Davines CEO Paolo Braguzzi, NA Creative Director Jorge Blanco, RNA Artistic Team member and top SBD 2012 fundraiser Edmonton's Chantal Girard) and Eco Salon Presentations (winning salons Vancouver's Design House, and Italy's Trecentosessantagradi) 5. Angelo Seminara (Davines' Artistic Director responsible for the hair looks of a variety of houses such as Chloe, Vivienne Westwood, Chanel, YSL, Hermes, Alberta Ferretti, Kenzo and Alexander McQueen campaigns, and duo Brian Suhr (Davines International Education Coordinator responsible for implementing the Davines trainers programs and Kirsten Demant (stylist with a no boundaries approach to hair styling).
---